Training and support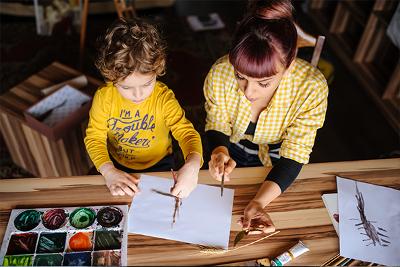 Caring for children is a demanding role. Regular, high quality training is offered to support carers and their family. Some training is mandatory and is required as part of payment for skills. As a carer you will have an individual development plan to identify specific training and development needs.
When you join us you'll need to complete a training, support and development standards document. These standards are a national benchmark and give you the recognition you deserve for the role you play as a foster carer.
Foster carers who care for children requiring a higher skill level are expected to complete higher levels of training to enable them to meet the demands and challenges of the children they care for. We offer training and support to ensure that our foster carers are equipped with the skills needed to meet these demands. Foster carer courses are available on evenings, weekends or online. Our courses are provided throughout the year and cover the spectrum of needs of our children and young people.

Training
For more information on training, how to book, e-learning and flexible learning please visit the Foster carer training page.

Support
As one of our foster carers you'll have access to a range of support networks to ensure you get the help you need, when you need it, to foster with confidence. Ofsted commented in 2019 that "There is good support from supervising social workers" so you know that you will be in good hands. Our support includes:
Named supervising social workers
Once approved you'll receive ongoing support from a named, qualified and experienced supervising social worker. They'll be your point of contact within your fostering team at Gateshead Council. Your supervising social worker will give you support and will help develop your skills with further training. As soon as you are approved as a foster carer your supervising social worker will start the process of matching you with our children who need placements.
Support from the child's social worker
Any children fostered by you will also have their own social worker who can provide support. Your supervising social worker will have a direct link to the child's social worker to ensure clear communication.
Direct links into other services within Gateshead Council
We have direct links with all council services and can provide advice or key contacts to a wide range of services that may link to the fostering household (education, planning etc.).
Supervision meetings
These usually take place at your home on a monthly basis, although the frequency of these meetings can be increased if needed.
Support groups
Regular meetings provide opportunities to meet with other foster carers. These meetings will enable you to share your experiences whilst keeping up to date on topical and relevant issues.
Telephone support
Access to telephone support is available to all foster carers. There is always someone at the end of the phone to offer support during office hours. An out of hours service is also provided 365 days a year, so you're never on your own.
Respite or short breaks
Planned respite or short breaks are available to offer carers and their families time off when necessary.
Therapeutic and psychological support
Therapeutic and psychological support can be provided for children where necessary.
Educational support
Educational support is available for carers and children when the child is experiencing difficulties at school. All children are provided with a personal educational plan. Our fostering team has strong links with all of our schools.
Independent advice
Access to independent advice through 'Foster Talk'. Foster Talk is an independent support service providing face to face support, advice advocacy and mediation for foster families during difficult times such as allegations and complaints.
Benefits for Gateshead Council employees
As the corporate parent to looked after children in Gateshead, we will support employees who apply to become foster carer with us. In addition to the above package of support, current Gateshead Council Employees will also receive the following paid time off:
three days to attend pre-approval training
two days, per year, to attend mandatory and core training
one day, following placement with new child or children, to help settle a child into their new home
up to five days per year to deal with an emergency with the child, for example taking them to Accident and Emergency (leave is pro-rata for part time employees)

Our fostering community
Our community of people and networks are here to support you at every stage. Start your fostering story and transform a child's life. We value the huge contribution that foster carers make to the lives of vulnerable children in Gateshead. We don't just tell you this we show you by:
recognising your achievements, through our rewards and recognition scheme.
providing opportunities to spend time together with other foster families at an annual summer fun day, Christmas party and coffee mornings.
keeping you up to date with regular news and updates via our newsletter.
encouraging you to refer a friend, family member or colleague to us and rewarding you if they become an approved foster carer.
providing the whole fostering household with an "Active Card" which gives free access to Go Gateshead Leisure facilities (including swimming and fitness suite) and half price discount for soft play, clip n climb and swimming lessons
issuing foster carers with a 'my max card' giving you discounted admission to attractions and activities throughout the UK. Enjoying experiences like this can be a great way to bond, have fun and make memories that last.

Your story starts here
The first step to becoming a Foster Carer in Gateshead is to fill out our fostering enquiry form. A member of the fostering team will then contact you to gather some further details.
Get in touch