Gateshead District Energy Scheme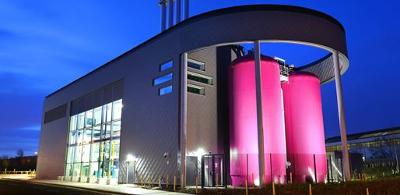 Background
Built to serve Gateshead town centre's current and future energy needs for decades to come, the Gateshead District Energy Scheme sets the blueprint for next-generation district energy, integrating heat and power generation and distribution, with energy storage, whilst providing national grid services.
The scheme originated in 2010 from our ambition to provide low cost, low carbon energy for Gateshead town centre. All our customers receive at least a 5% discount compared to market energy tariffs. However, it has grown into a major infrastructure scheme that will underpin the future redevelopment of the town centre, stimulating inward investment and job creation, as well as becoming a significant trading opportunity to support our financial position.
The scheme was funded and is owned by us, Gateshead Council. The scheme is operated by Gateshead Energy Company, a public limited company wholly owned by Gateshead Council.
Gateshead Council wins a national award for its District Energy Scheme
We were presented with the Visionary Project Award by the Association for Decentralised Energy (ADE) at its 50th anniversary awards ceremony at the Science Museum in London. The special award ceremony was recognising the most significant schemes of the past decade, as well as looking for those schemes setting the bar for the next decade of energy initiatives.
The Visionary Project award received the most entries out of any category at the event. Sponsored by SAV Systems, the award highlights projects that look forward and dramatically change the vision of the energy industry for the future.
The Gateshead scheme was judged to be a "truly visionary" project. It provides heat through 3km of pipes and electricity through a private wire network to domestic, commercial and public sector customers.
It is one of the most unique projects in the country as it also offers peak power generation to help balance the grid through a mixture of battery storage and combined heat and power with heat storage.
Construction of the District Energy Network
We worked with district energy experts WSP-PB Ltd. to design and procure the energy centre and wider network. Construction was by Balfour Beatty Construction and began in June 2015, with Clancy Docwra beginning work on the underground heat and power network in January 2016. The 4MW of combined heat and power engines are installed and maintained by Edina UK Ltd. The Energy Centre was completed in March 2017 and has been providing heat and power to customers via a new 5km underground network of heat pipes and high voltage 'private-wire' electricity cables.
View a plan of the initial and future energy network. [894.4KB]
We have already doubled the size of the initial 2.5km network, by extending the network to new customers during 2018-2019. The network is now being extended by a further 5km, to the east, towards Gateshead Stadium, which aims to be complete by early 2022.
We continue to work with other commercial customers and new developers in the town centre to see the network expand further in the coming years.
Fuel Poverty and Energy Company Obligation (ECO)
We have a
Statement of Intent [381.9KB] published under the ECO Local Authority Flexible Eligibility scheme. If you have work that you believe is eligible for funding under this Statement of Intent, please email lisapage@gateshead.gov.uk to arrange for a declaration to be signed.

More information about how the scheme will work, and the benefits to customers and developers