Gateshead Awards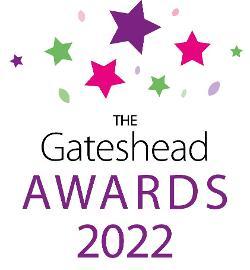 Gateshead is a fantastic place with amazing people. Many people are demonstrating their local pride by going the extra mile to help their community to thrive.
The Gateshead Awards - presented annually by the Mayor of Gateshead - celebrate all those who, in whatever way, have made a real difference to the lives of others in the borough.
Find out more about the nominees in each category
Award winners 2021
Lifetime Achievement Award
Janet Walton and David Stokes
Volunteer of the Year
Victoria Crawford
Voluntary /Charitable Organisation of the Year
Dunston Help for Families
Young Achiever of the Year
Jack Wilkinson
Carer of the Year
Owen Turnbull
Sports Club of the year
Leam Rangers Football Club
Maureen Chaplin Sports Achiever of the Year
Mary Butler
Musician / Music Group of the Year
Gateshead Care Home Choir
Business in the Community Award
Hunger Hangout
Armed Forces in the Community Award
Val Hempsey
Congratulations to all of the winners!
Watch the awards ceremony on Youtube
Download the awards ceremony booklet [635.97KB]

For further information please email the Civic Officer and Mayor's secretary at mayorsoffice@gateshead.gov.uk or phone 0191 433 2011.