What we offer: schools and nurseries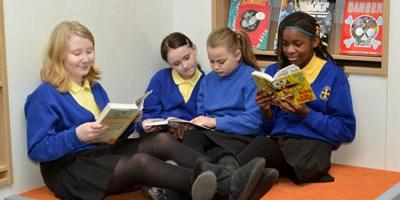 Join the library Find or renew books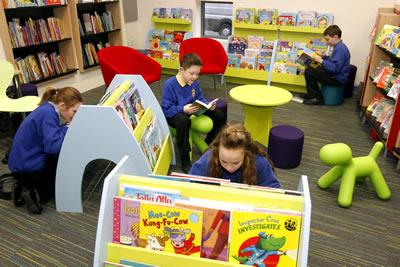 Bring a range of exciting and inspiring activities to your school - delivered in school or in your local library. Let our professional librarians and children's specialists support your school.
Love Your Library
Transform your school library with our help and create an exciting and stimulating space for your pupils. We will visit your school and work with you to provide advice on how to enhance your book stock.
Visit the library with your class
If you want to develop your pupils' reading habit, then why not bring your class to the library to borrow books?
To book a visit please contact your local library.
Early Years Foundation Stage
We offer a number of interactive sessions featuring stories, rhyme and movement. These can either be held at your school or you can visit your nearest local library. Sessions include:
Booktrust Time to Read for reception
Storywalks
Rhymetime
Key Stage 1 and 2
Boogie Books: inspirational picture books come alive in this interactive session designed to put the fun and delight into reading. Suitable for key stage 1.
Power Readers vs Story Heroes: games, competitions and lots of fun in this fun story quest! Readers will explore new authors to expand their reading choices. Suitable for Key stage 2.
Chatterbooks: relaxed and fun reading group which will stretch, motivate, encourage and support readers. Children share books and enjoy creative activities inspired by amazing children's books. All children receive a bag, reading diary and wristband. Designed for 12 children over a six week period. Suitable for key stage 2.
Book Buzz Juniors: introduce new authors designed to stretch, excite and inspire able year 6 readers. Using active discussion and group activity to encourage wider reading over three sessions.
Your school will receive a collection of books for the school library.
Key stage 3
Book Talk: encourage reading for pleasure with fun, interactive discussion around books. Sessions are designed to introduce a wide range of genres and topics.
Information Literacy: help students to establish their skills for independent learning and to develop research skills using online and hard copy resources. Session are designed to encourage critical thinking.
Reading Hack: our reading hacks offer great volunteering opportunities for your people. Help us to design creative hacks which can be anything from poetry-themed DJ sets to minecraft-inspired events. We can support a Reading Hack in your school.
Other opportunities
Author & illustrator events: check our events schedule for our regular offers of author, illustrator and performance visits.
Parent Welcome Meetings: invite us to your parents evening or open day and we can promote the importance of reading and sharing books with children as they prepare to start school.
CPD for education professionals: we offer Book Talk for teachers and teaching assistants. Expand your knowledge of the latest and most inspiring authors, titles and genres in this informal exploration of some of the most amazing children's and young people's literature.
Find out more
Sessions can be customised to your individual requirements.
Charges are payable on some activities.
For more information on our offers please contact us.
Looking for inspiration?
Booktrust is the UK's largest children's reading charity.

National Literacy Trust are an independent charity working with schools and communities to give disadvantaged children the literacy skills to succeed in life.
The Reading Agency inspires more people to read more, encourage them to share their enjoyment of reading and celebrate the difference that reading makes to all our lives.
Gateshead Libraries
Central Library, Prince Consort Road, Gateshead NE8 4LN
0191 433 8410
Give us your opinions: Your views matter