Gateshead Millennium Bridge lighting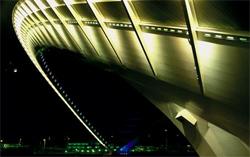 The task of lighting Gateshead Millennium Bridge fell to Jonathan Speirs and Associates (JSA).
They created a complex design to fully illuminate the bridge without causing light pollution.
The bridge's lighting design breaks down into several elements:
arch
pedestrian walkway, cycle decks and balustrade
underside of the deck
opening and closing
lighting
The bridge is not lit during tilts, so as not to distract ships passing underneath.
The arch is lit with a series of high-powered lights which change colour to add to the design. In the week it is lit with a crystal white light and at weekends it changes to a spectrum of colours.
The pedestrian walkway, cycle decks and balustrade are illuminated with a string of white LEDs, each drawing just three watts of electricity.
Lighting on the underside of the deck causes an almost mirror-like appearance on the surface of the slow moving River Tyne.
Finally, in order to alert pedestrians and cyclists to the bridge's opening and closing, custom-designed green and red LEDs are used. The green LEDs are embedded in the ground in the shape of a "go" arrow, whilst the red LEDs feed into a no-entry symbol.
A synchronised siren also sounds to alert cyclists and pedestrians that the bridge is about to tilt.
The bridge is lit from dusk, the exact time varies throughout the year but lights on the bridge will come on at the same time as street lights.
Requests to light the bridge
The colourful tones that light the Gateshead Millennium Bridge can also be yours for the evening. Whether you're in business or want to personally celebrate, we can add something truly unique to your special occasion and be the 'Light of your Night'.