Gateshead Millennium Bridge design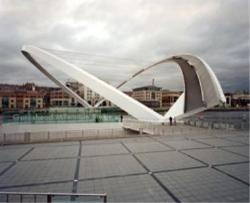 The unique design by Wilkinson and Eyre Architects and Gifford and Partners continues the tradition of innovative and cutting edge technology that is the hallmark of all the bridges over the River Tyne.
The bridge not only looks stunning but also uses precision engineering to tilt - like the opening of an eye. An amazing sight that simply must be seen in person.
The bridge is made up of a pair of steel arches:
The deck that comprises of the pedestrian and cycle path;
The supporting deck that forms an ark over the river.
The pedestrian and cycle deck is an almost-horizontal curve, suspended above the river from a series of suspension cables. These suspension cables going to and from the arch and deck help to give stability for those crossing the bridge.
The pedestrian deck is about a foot higher than the cycleway to provide clear views of the river and to allow a higher safety guard to be used for cyclists.
There are two glass canopies at each end of the bridge, which are used to operate the hydraulic system.
The bridge tilts as a single, rigid structure. As the arch lowers, the pathway rises, each counterbalancing the other. This ensures a minimum amount of electricity is used during each tilt.