Taxi licenses
Vehicle Age Policy
Following a change to the Council's constitution, vehicles to be licensed which are more than three years old are now required to be presented to the Council's Regulatory Committee. Please contact the Licensing Section if you have any queries regarding this.
New driver and driver renewal applications
The Council are continually striving to improve services and operate in the most efficient manner and are currently reviewing service delivery in order to make improvements and efficiencies. In Licensing we have reviewed new driver applications and driver renewal applications.
A number of changes are currently being trialled. For new drivers there is a more straightforward application process. The starting point is completing a short screening form (available below) before an appointment is made for you to attend the Civic Centre when a range of activities, checks and testing will take place.
For existing licensees renewing their driver licence the process is similar with a requirement to complete a simple form (available below) before an appointment is made to carry out the appropriate checks, testing and other associated activities.
We are seeking feedback from those who have trialled the new process so we can continue to develop better services.
Taxi Licensing - Policy update
The Council are required to change policies from time to time to reflect changes which occur outside of the normal review period for these policies. The Council have recently changed their policies in respect of Taxi Licensing in several areas in response to the need to reflect national legislation, the need to reflect legal rulings and the need to address serious concerns in relation to public safety. The changes include, requiring new applicants to prove they have the right to live and work in the UK, requiring all drivers to undertake Child Sexual Exploitation ('CSE') awareness training and the power to respond to circumstances where the Police inform the Council there is a 'pressing social need' to take action to protect the public. The full changes can be examined below in the documents entitled "Hackney Carriage Driver Licences", "Private Hire Driver Licences" and "Policy on the relevance of criminal conduct and complaints against licence holders".
The Equality Act 2010
This
List of Wheelchair Accessible Vehicles (Correct as of April 2019) [30.94KB] is designated for the purposes of Section 165 of the above Act.
Home addresses of Gateshead licensed drivers by local authority
The map below shows the local authorities in which drivers licensed by Gateshead Council live. This data is correct as of September 2017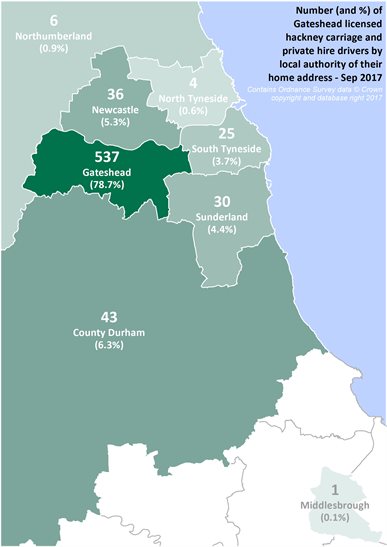 Hackney carriage and private hire documents
Contact us
Licensing
Gateshead Council
Civic Centre
Regent Street
Gateshead
NE8 1HH
0191 433 4741
licensing@gateshead.gov.uk
Taxi Vehicle Testing
Gateshead Council
Park Road
Gateshead
NE8 3HN
0191 433 7433