What you can do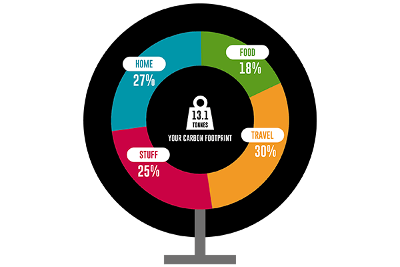 Every person and organisation in Gateshead has a carbon footprint. This is the amount of carbon dioxide released into the atmosphere as a result of the activities of an individual, organisation or community.
Nearly everything you do and buy releases some amount of carbon into the atmosphere. We need everyone to play a part in reducing their impact on Gateshead's environment, no matter how big or small.
Find out what your carbon footprint is using the WWF environmental footprint calculator (opens new window) .
Do you work for a Voluntary Community Social Enterprise (VCSE)? See what others are doing to help tackle climate change (opens new window) , and see what more your organisation could do.
5 things you could do today to reduce your carbon footprint
Eat less meat and dairy
This does not mean you have to become a vegetarian, but eating meat less - especially red meat - will significantly help the environment. Did you know that to get a single pound of beef, it takes over 5,000 gallons of water, which is drastically increasing the problem of water scarcity. Use the BBC climate change food calculator (opens new window) to see your diet's carbon footprint. Eating a more plant-based, seasonal diet can help tackle climate change, supports the local economy and helps us to live healthier lives. The Grantham Institute has some advice for saving the planet, one meal at a time (opens new window) .
Unplug your devices
Anytime a cord is plugged into a socket, it's drawing energy. Even if your device is not charging, you're still contributing to your carbon footprint. Always leave your electronics unplugged unless you are using them.
Shop and eat local
Think about what you eat, where it has travelled from and if it's in season.
Make small changes at home
Turn your heating down by one degree and switch the lights off when you leave a room.
Look after your car
Keeping your car tyres properly inflated can increase fuel efficiency by 3%. Small changes to your driving style can make a huge difference to fuel consumption.
5 things to consider about the way you live
How do you get about? Could you walk more, reduce your short car journeys, could you car share or use public transport more often or even get a bike?

Save energy at home by checking out the Energy Saving Trust

(opens new window)

.

Could you improve your household waste recycling, look for less packaging, use our A-Z of recycling.

Reuse and reduce what you buy - everything we buy has a carbon footprint - avoid single use items and fast fashion, repair or reuse items, avoid wasting food and give unwanted items a new life by donating them to charity, or swap clothes with friends and family.

Talk about it and share your ideas - as you make these positive changes to reduce your environmental impact, share your experience with your family, friends, customers and colleagues.
This is an emergency. Your support to put a plan in place and work through it will make a difference.
Need more inspiration?
People and organisations in Gateshead are already working hard to reduce their carbon footprints.
See what changes they are making and how they're changing the ways we impact on the planet.