Computers and Internet
Access our computers (with Internet) or free wifi
Join the library
Find or renew books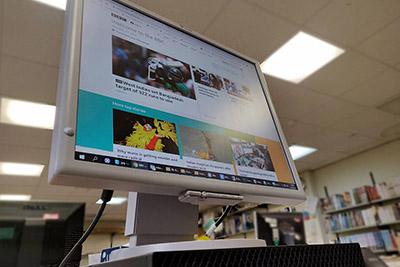 All our libraries have PCs for library members aged 8 years and over and it's free to use our computers. Due to social distancing the number of computers available has been reduced so we recommend you book a session in advance by telephoning 0191 433 8420. Sessions are currently restricted to 45 minutes. Services include:
The Internet & email
Microsoft Office (Word, Excel, Access, Publisher and PowerPoint)
Scanning
Printing
You can also use our computers to access our brilliant online services.
There is now no charge to use our computers in Council run libraries or other Council premises. There is a small charge for each item you print, to cover our costs.
If you're new to PCs or the Internet, or someone you know needs help and support, we offer regular training courses and taster sessions. Check out our Learning section for more details or telephone 0191 433 8430.
All computers have the following software:
Windows 10
Google Chrome
Microsoft Internet Explorer 11
Microsoft Office 365 - including Word, Excel, Powerpoint, Publisher and Access
You can open and edit your own documents on Council computers if they're in a compatible format. The software on the computers can cope with most formats. If the document wasn't created using a Microsoft Office program, you may need to save it as Rich Text Format (RTF) before our computers can open it.
You can use documents or photos from a USB Flash Drive ("Memory Stick") on a Council computer if this doesn't need extra software to be installed on the computer.
We don't allow you to install your own programs. This would need Administrator rights on the computer which we can't give because of the risk from viruses and malicious software.
You can connect your phone or camera to download photos if this will work without installing any software.
All public computers in Gateshead have Deep Freeze and antivirus software installed. Deep Freeze will restore the computer to a "clean state" whenever it's restarted. If a virus alert pops up, or you are in doubt about what a previous user has done, restart the computer before your session and all of their activity will be wiped.
If you think your USB Flash Drive might have a virus on it, click the right mouse button on the suspicious item and select Scan for threats. The McAfee antivirus software will scan the drive or item and let you delete or quarantine any virus infected files found. We highly recommend that you delete any viruses: these can have a serious effect on your data and your personal privacy.