Sound Gallery
Join the library Find or renew books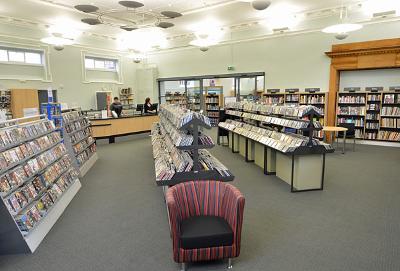 The Sound Gallery is the region's largest audiovisual library. We are situated in Gateshead Central Library. Members can borrow 6 CDs, 6 DVDs and 2 language courses from us at a time.
Music
We have CDs covering all genres and tastes including Pop, Rock, Blues, Jazz, Country, World, Folk, Reggae and Easy Listening.
Film
Choose from thousands of titles on DVD & Blu-ray. We stock the latest releases alongside an amazing back catalogue of world cinema, westerns, horror, sci-fi, comedy, TV classics, musicals, children's, box sets as well as vintage and contemporary classics.
Language courses
If you are thinking of learning a new language we can help with a selection of courses on CD from Afrikaans to Swahili.
Select and Collect
We now offer a Select and Collect service from the Sound Gallery.
check our online catalogue
decide what you would like to borrow
ring us with your order
we will select the items and contact you to arrange a collection time
Hire charges
All CDs 50p each: 2 week loan period
DVDs £1: 1 week loan period
Premium DVDs: overnight hire £1 (If issued on Tuesday, due back on Thursday; if issued on Friday or Saturday, due back on Monday)
DVD Box Sets £2: 2 week loan period
When you collect your items please pay by card, or with the exact money if you are paying by cash.
Normal repeat hire fees will apply for any overdue DVDs.
How to join
To join the Sound Gallery all you need to do is call in with proof of your name and address, such as a Council Tax bill, recent bank statement or current driving licence.
You must be 18 years or over to rent DVDs and Blu-rays. If you are under 16 years of age you can join to borrow CDs but we'll need your parent's or carer's permission.