Early years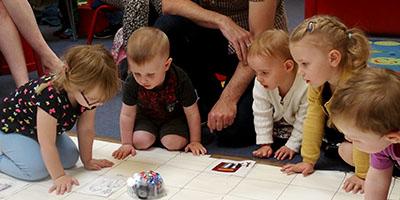 Join the library
Find or renew books
Digital devices feature in the lives of children from a very young age.
At our libraries, we provide opportunities for young children to pick up digital skills from an early age.
We run regular drop-in sessions at our libraries which are suitable for up to 5 years old.
Through stories, play and exploring with simple programmable robots, the sessions we run include:
Code-a-pillar story time
This session covers interactive play using a simple electronic toy to show babies and toddlers how their actions can have an effect, for example by pressing buttons music will play or lights will flash.
Bee-bots sessions
This session uses easy to operate Bee-bots which are simple programmable friendly floor robots that are fantastic for child care and early years. With their sounds and flashing lights they delight and engage children for countless fun and engaging activities whilst teaching the fundamentals of computational thinking such as sequencing, estimation, problem-solving and just having fun.
To find out more
Look out for sessions advertised in our libraries or contact us if you would like to find out when our next session is running: libraries@gateshead.gov.uk