Gateshead Archive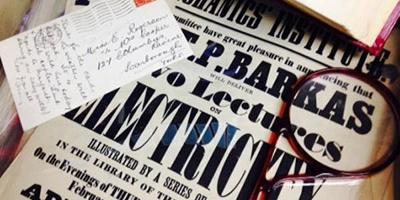 Join the library Find or renew books
About us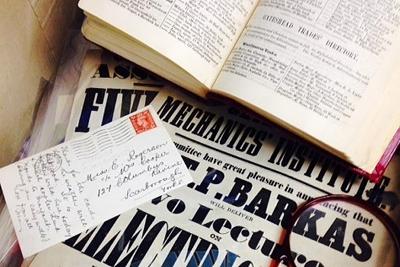 Gateshead Archive is a new place to discover local and family history.
The Archive is free and open to anyone to use. Our friendly staff are ready to help you get started with your family and local history journey. Gateshead Archive has been made possible with funding from the National Lottery Heritage Fund.
Our collections include:
Thousands of books about the history of Gateshead and the North East
Old maps of Gateshead's towns and villages
Newspapers from the 1700s to present day
Photographs from the past one hundred and fifty years
Visiting

The Archive is situated in Central Library.
You can visit the Archive to use our collections without an appointment. If you know in advance which material you will be using, please get in touch and we will have material ready for you when you arrive. You can telephone us on 0191 433 8430 or email at libraries@gateshead.gov.uk.
Gateshead Archive Online
We offer a programme of online talks about the history of Gateshead and the North East region, as well as short courses online. Find out more at .
Our Collections
Gateshead Archive Covid-19 Collection
Gateshead Archive recognises how important it is to capture a record of the Covid-19 pandemic in our borough.
We want to collect and preserve materials about the pandemic's effect on the Gateshead Borough. We are interested in materials that show how people experienced the lockdown especially relating to changes to daily life and the ways the pandemic has impacted our work, social activity and leisure-time.
Books
Our book collection includes more than 10,000 rare and unique volumes about the history of Gateshead and the North East.
The books date from the 1600s to present day, including the oldest surviving book from Gateshead, printed in 1654. Included in the book collection are cuttings, directories, minute books, periodicals and many local histories covering a wide range of social and industrial history.
How to access our book collection
Open access collection
Many of our books are available to browse in our reading room. You do not need to be a member but will currently need to make an appointment to use material.
Search our catalogue to find Gateshead Archive books.
Secure books
Rare and valuable books are held in secure areas of the reading room and in our basement stacks (identified on the book catalogue as Gateshead Archive 'Stack' or 'Secure').
To view these items you will need to register for a Gateshead Libraries ticket (free of charge in any Gateshead Council library or online at www.gatesheadlibraries.com).
If you do not have a ticket you will need to provide official proof of identity validating your name and permanent address.
Examples of documents that could contain the details required include:
Driving licence (name, address and signature)
Bank statement, letter or bill (name and address)
Pension/benefit book (name and address)
vehicle registration documents (name and address)
Historic maps
Our large collection of historic Ordnance Survey maps are available digitally on our map touchscreen in Gateshead Archive reading room. This allows you to compare maps at different time periods at different levels of detail.
The county series (1858-1939) is also available in paper format to view without appointment in the reading room (help yourself from the public map cabinets).
Paper copies of Victorian town plan maps and post-war Ordnance Survey maps are held in the Archive stacks and are available on request (we recommend contacting us in advance to avoid waiting).
Other maps and plans including estate maps, retail plans, a small number of architectural plans plus geological and admiralty charts are listed on our catalogue. Visit www.gatesheadlocalstudies.com (opens new window) for full listings.
Most are held in the Archive stacks and are available on request with notice. Please contact us ahead of visiting to ensure access is available (maps may not be available if they are undergoing conservation).
Newspapers
View over 60 local newspapers dating from 1760 to present day. See our full list of local newspapers
We recommend booking ahead to ensure a microfilm reader is available. Email us at libraries@gateshead.gov.uk to make an appointment.
Images of Gateshead
We have thousands of historic images of Gateshead available online. Take a look at our images online (opens new window) . Many images are available to buy. Find out more.
Local History events
We are starting to hold events in-person now, as well as continuing some online events. These are listed here on our . There will also be a libraries-wide events programme for January to June 2022. Call into a branch to pick your copy up.
Community projects
We also support community groups and local organisations to access our collections. Staff can provide guidance on accessing resources, tours and tailored sessions. Contact us to find out more. Email us at libraries@gateshead.gov.uk
Family history records
Visit our Family History pages to find out about our collections, events and family history support.
Research services
If you're unable to visit the library, staff can answer quick enquiries free of charge. For more detailed research, a fee will apply.
Gateshead Libraries
Central Library, Prince Consort Road, Gateshead NE8 4LN
0191 433 8410
Give us your opinions: Your views matter