About selective landlord licensing
What is selective licensing?
The Housing Act 2004 gives councils the power to require residential landlords to obtain a licence in order to let property to tenants within a designated area. Its aim is to improve the quality of life for all in the area by ensuring a consistent high standard of management of private rented homes which thus make a positive contribution to the area.
The designated areas have a high level of private rented housing, the criteria to be considered as 'high level' is for an area to have above 19% private rented housing. If this level is reached, Selective Licensing can be introduced if an area satisfies one or more of the following conditions:
Low housing demand (or is likely to become such an area)
A significant and persistent problem caused by anti-social behaviour
Poor property conditions
High levels of migration
High levels of deprivation
High levels of crime
Aims and objectives
The main aims for both proposed schemes is to reduce low housing demand by raising standards within the private rented sector leading to improvements in the overall social and economic conditions in the area to create a strong, healthy and vibrant neighbourhood. It is also considered that the designation will assist in the reduction of anti-social behaviour in the area.
In order to achieve these aims, a number of key outcomes over the period of designation have been identified:
To reduce the turnover of occupants to create stable communities
To reduce the number of empty properties and the length of time they remain unoccupied
To reduce levels of anti-social behaviour linked to tenants in the private rented sector
To improve private rented property conditions and increase the number of accredited homes
To reduce problems with private rented housing that contribute to high levels of deprivation via improving housing conditions
To improve the management of properties in the area
To increase the number of tenants who manage their tenancy well
To stabilise/increase rental values of private rented properties
To stabilise/increase the value of residential premises
To support the private rented sector in its provision of well managed properties and tenancies an assist those seeking to live and currently living in private rented accommodation.
How will a licensing scheme assist in meeting these objectives?
These objectives respond to the issues faced within the proposed Areas, as set out previously including low demand, anti-social behaviour, property values and poor property conditions/deprivation. It is considered that the implementation will assist in delivering these outcomes and stabilise the residential market in the area by ensuring:
Landlords and agents will be more accountable for property management.
Clear explicit standards for landlords, agents and tenants in a properly regulated sector.
Landlords and agents operating in the area are fit and proper and have the ability to manage property.
More effective control of monitoring properties
The provision of a framework for support, education and guidance services for landlords and tenants.
Landlords and agents will be more accountable for the tenants who reside in their property.
Landlords and agents will become more visible.
Tenants will become more aware of their responsibilities for maintaining their tenancy.
Tenants will become more aware that they must act in a responsible manner and not be associated with anti-social behaviour.
Tenants will be made aware that failure to conform to standards will lead to eviction.
Tenants are reference checked prior to occupation of property in the area.
A positive impact on tenants' behaviour, following an awareness of the difficulty in acquiring further accommodation coupled with improved standards accommodation.
Tenants will benefit from a guarantee of safe, healthy and well managed housing.
Landlords and agents will benefit from a properly regulated sector, good public image and confidence in housing management.
Bad landlords and agents will be forced to improve or will be forced out of the area.
Exclusion of a licensee where there is evidence of harassment and illegal eviction.
The profile and public image of the area and the sector is raised encouraging tenants into the market and reputable investment.
The Authority will have more options to tackle problems within the area.
Residents will have an additional means of reporting a problem or issues associated with a private rented property.
The interests of owners who live in the same area are protected.
Who licensing applies to
In areas where selective licensing is applied, all landlords will be required to hold a licence in order to rent out property.
To qualify for a licence, a landlord must be able to demonstrate that they are acting within the law and taking adequate steps to manage their properties and keep them safe. In addition, a 'fit and proper' person test will be applied to test the landlord's suitability to manage a tenancy.
Properties with a mandatory HMO licence are exempt. There are also a number of other circumstances which will mean that you do not have to apply for a licence. Please refer to the
Selective Licensing of Houses (Specified Exemptions) document [48.68KB] for a full list of exemptions.
Penalties
Any licence holder found to be in breach of the licence conditions could face either a financial penalty up to £5000 or a prosecution, where if convicted, a fine can be imposed. In this situation the council would consider whether to revoke the licence and make a Management Order taking over the management of the property. Please refer to our
civil penalties enforcement guidance [675.92KB] document for further information.
Enforcement tools
The council has a Private Sector Housing Team which utilises a wide range of tools to tackle poor property condition, inadequate tenancy management and improve conditions in the private rented sector.
These tools include:
Mandatory HMO Licensing
Additional HMO Licensing
Landlord Accreditation
Empty Property Enforcement
Housing Standards - Housing Health and Safety Rating System (HHSRS)
EPC - Energy Performance of Buildings (Certificates and Inspections) England and Wales) Regulations 2012
The Smoke and Carbon Monoxide Alarm (England) Regulations 2015
Public Space Protection Orders
The Private Sector Housing Team are fully utilising the suite of tools introduced by the Housing Act 2004, one being the Housing Health and Safety Rating System (HHSRS). The Team are also utilising the new range of enforcement powers introduced by The Housing and Planning Act 2016, including financial penalties for certain offences, use of the rogue landlord database and banning orders. As a dual approach with Selective Licensing, these powers will address not only management standards but also property conditions and unscrupulous practices within the private rented sector.
Enforcement approach
The pyramid detailed below provides an overview of the graded response to enforcement action. If a landlord engages with the Local Authority in the first instance they will be supported following an informal approach. However, if a landlord does not comply with the informal request, the local authority will take the graded approach to ensure compliance. Enforcement action will be based on risk and we must also have full regard to any statutory duty. Assessment of risk will be based on current legislation and specific guidance. As and when necessary, the council will seek to ensure it recovers appropriate costs from those landlords who are not being proactive in managing or letting properties.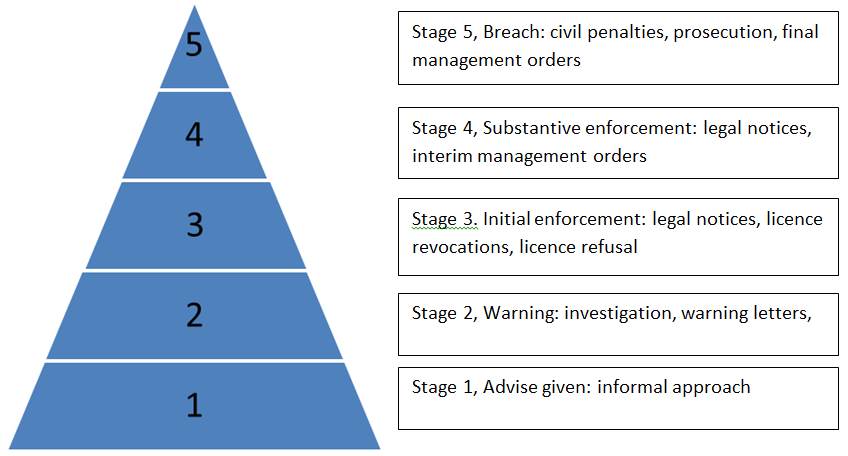 Documents