Construction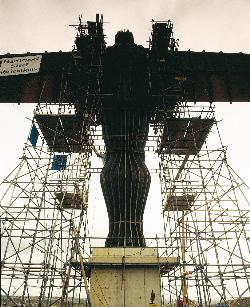 During the night of 14th February 1998, the Angel of the North made its long-awaited journey to its new home by police escort. Delivered in 25m sections, it travelled at just 10mph.
At dawn the body of the Angel was lifted into position by a 500 tonne crane and lowered onto 52 three-metre bolts. It took twenty minutes.
Assembling the sculpture took an entire day - at 11am the first wing was hoisted to adjoin the body and the second wing was flown into place around 4pm.
The day was a major media event with over 20 television crews beaming the news into thousands of living rooms around the world.