Engineering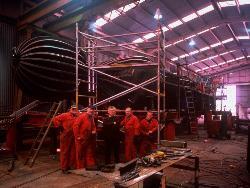 The key to the success of a project of the scale of the Angel of the North is the working relationship between the artist and the engineer - the artist's vision being complemented by the engineer's technical knowledge; the engineer's advice informing the artist's work.
Having worked with Antony Gormley on previous sculptures, Ove Arup & Partners' engineers were confident that they could help him to realise his vision of the Angel of the North. There were two main ingredients in Arup being chosen to help the artist.
1) The firm's strong belief that if the structure could be made to work, they would find out how.
2) The engineers' high level of skill in pure engineering.
Arup engineers have worked on most of the landmark structures of the late 20th century, from the Sydney Opera House to the Lloyds' building in London. The firm is well-known for its innovative approach to problem solving and the expertise of its engineers and materials specialists.
With its exposed, hillside position, the influence of the wind on the structural design of the Angel cannot be too highly stated. The statue stands 20 metres tall with a wingspan of 54 metres and is likely to be exposed to winds of 100 mph or more.
Where a human figure leans to adjust to the loading imposed by gusts of wind, the statue must withstand these forces in a static state. So the connection of the wings to the body, the strength of the ankles, and the connection to the ground are all vital points in the design.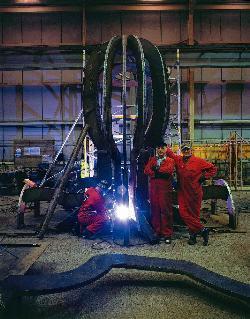 An understanding of the ground conditions and the requirement of the foundations were essential - especially where a wind load is imposed on one wing only, thereby twisting the structure.
John Thornton, Ove Arup & Partners' project director, commented: "The team's success in creating the Angel is due to collaboration. Antony, Gateshead Council, the fabricators at Hartlepool Steel and our own engineers in Newcastle and London each bring particular skills to the project and in respecting each other's knowledge and ability, we have brought the artist's vision to life and given Gateshead a unique landmark."