Blaydon Races

Artist
Dick Ward

About
Mural depicting each verse of the Blaydon Races song.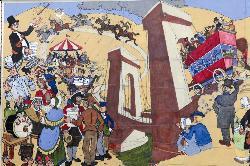 Originally, the Blaydon Races was a large-scale painting on canvas located in the precinct of Blaydon shopping centre. The celebratory work depicts the characters from the popular song "The Blaydon Races" by Geordie Ridley and was 12 metres long and 3.6 metres high.
The mural which was painted by local artist Dick Ward was painted in acrylics and depicts each verse of the song from the start at Balmbra's music hall in Newcastle, illustrating the lively journey along Scotswood Road, to the arrival at the Blaydon Races.
Popular characters such as Jackie Broon, Coffy Johnny and of course Geordie Ridley himself featured in the painting which was commissioned by Blaydon Races Festival committee and funded by One North East through the Single Regeneration Budget.
Unveiled in 2004 as a temporary piece the work was only intended to be in place for 12 months but has been on display for twelve years during which it has suffered from considerable deterioration from the elements.
To commemorate this original work a full sized reproduction has been created and installed on the Blaydon Shopping Centre thanks to Knight Frank LLP and Gateshead Council.
To mark the occasion, Blaydon Shopping Centre teamed up with Gateshead Council and Blaydon West Primary School to pay homage to the Blaydon Races.
During the official launch in April 2016 Blaydon West Primary School's choir of 50 pupils, accompanied by a small band, sang a number of local songs including the famous Blaydon Races. Artwork produced by the pupils with the help of artist, Fiona Jamieson was also displayed in Blaydon Library to celebrate the reinstatement of the artwork.