Gateshead Award Nominees 2022
Find out more about the nominees in each category for the Gateshead Awards 2021.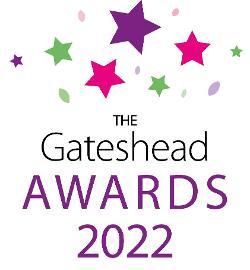 Volunteer of the year
Voluntary / Charitable Organisation of the Year
Carer of the Year
Sports Club of the Year
Young Achiever of the Year
Maureen Chaplin Sports Achiever of the Year
Musician / Music Group of the Year
Business in the Community Award
Volunteer of the Year - sponsored by Go North East
Betty Askew
Betty dedicates her time and energy to supporting The Whitehills Centre. She is not only responsible for the garden but also helps provide hospitality when community events take place. Twice a week she packs and delivers food parcels throughout the area and is always on hand to make all visitors feel incredibly welcome.
Gary Moorhead
Gary has taken on running Swalwell Community Centre and is working hard to make it a place everyone can enjoy. He has added lots of clubs/activities to ensure there is something for everyone and is organising events at the centre to help bring the community together.
Becky Skoyles
Becky volunteers for several community initiatives including litter picking and Hope for Hedgehogs, a hedgehog rescue and rehabilitation centre. As part of her work with Hope for Hedgehogs Becky has learned how to diagnose and treat the hedgehogs as well as looking after them at home. She works hard to keep Ryton clean and to help others learn about conservation.

Voluntary / Charitable Organisation of the Year - sponsored by Tarmac
Blaydon Youth and Community Centre
Everyone at the centre has worked incredibly hard over the last 12 months to ensure it provides a safe and welcoming space for the community. A wide range of activities is being offered including free activity sessions, Christmas Fayre, toddler groups, holiday provision and support during storms/emergency situations.
Citizen's Advice Gateshead
Despite issues with funding and staffing Citizen's Advice has gone above and beyond to help Gateshead residents with benefits, debt, housing as well as many other issues. They are a huge support to the people of Gateshead, particularly helping people to face the challenges presented by the pandemic.
St Chad's Community Project
St Chad's provides support to many people through free ESOL lessons, fitness classes and a women's group (all with free creche spaces so parents don't have to miss out) and a parent/toddler group has helped families reconnect after the pandemic. There is a pop up food shop and a charity shop as well as holiday activities and one-to-one support to ensure families get the help they need.
Winlaton Centre
The Winlaton Centre continues to give support to the community with the provision of food/groceries and personal items, which people going through a difficult time need. The Fare Share programme is vital support for some and the activities arranged give the opportunity for the community to come together.

Carer of the Year
Lauren Murray
Lauren is a young carer who cares for her mother and her younger brother, while still working hard at school. Lauren sacrifices time with her friends to make sure she is there for her family, particularly on bad days when she helps with all the housework and prepares meals. During the pandemic she was a huge support to her brother, helping to keep him calm by ensuring he could still go out for walks.
Joan Trevena
Joan cares for her husband who has vascular dementia and arthritis. Joan takes him to all of his hospital appointments and gives him all the helps he needs at home.
Nadine Winn
Nadine cares for her sister and her sister's family as well as supporting her dad. Despite suffering from her own mental health issues Nadine has given her sister's family all the support they have needed, particularly during the pandemic when her sister had to isolate.

Sports Club of the Year
Blaydon Tennis Club
Blaydon Tennis Club has provided many young children with the opportunity to play tennis and be coached in the sport. During the pandemic the club ensured online activities and allowed outdoor tennis as soon as possible, in a COVID safe way, to help people with the physical and mental wellbeing.
Dance Fusion Extreme
Dance Fusion Extreme run community classes, for both children and adults, to ensure the community has affordable access to dance and during the pandemic have offered support with online dance, phone calls and other activities. Through fundraising they also arrange for people to go on trips and organise events involving many different groups of people within the community.
Gateshead FC
Following serious financial issues the club, now with fan led ownership, have continued as a full time professional club with the Mens first team currently at the top of the National League North. Gateshead FC also runs ladies and academy teams as well as running sports clubs for everyone to take part in. The Gateshead FC Foundation also uses football to engage with local communities.

Young Achiever of the Year - sponsored by Gateshead College
Jake Ainscow
Jake is a valued member of the St Chad's Community Project, volunteering in the charity shop 4 days a week and at the football club. Alongside this he also does everything he can to help organise events to fundraise for the charity. Jake has recently got his first job and hasn't let his autism hold him back, ensuring he's an integral part of the community.
Shane Kelly
Shane has spent much of his time fundraising for various charities including the Duke of Edinburgh Award and Children in Need. He raised over £1,000 for his football club, Gateshead Redheugh, and is continuing to fundraise for Gateway North East, who support his brother. Despite suffering pain from joint hypermobility he never lets that stop him and, although only 12, is a fantastic young carer for his brother.
Lyra Miller
Despite being unable to continue with her university course due to health issues Lyra has dedicated all of her spare time to supporting Dunston Help for Families. Over the last year she has organised a school uniform sale, Halloween and Christmas events, volunteers in the shop, organises the kids club twice a week and helps to run the foodbank, as well as fundraising for the charity.

Maureen Chaplin Sports Achiever of the Year
Nathan Gardiner
Nathan has dedicated his spare time to being a coach for Gateshead Redheugh Football Club. Although working full time he supported the team in every possible way and has improved the team's performance.
Olliver Lenton
Despite being bullied for doing gymnastics Oliver has continued to enjoy doing the sport he loves and due to how much his skills have improved, over a short space of time, he quickly moved to the under 8 development groups and was selected to compete for the British Gymnastic team gym qualification.
Emily Stewart
Emily represents Gateshead Harriers both nationally and internationally and made her team GB debut at the European Paralympic Championships in Poland in the women's discus competition. Emily won a bronze medal on her international debut. Emily has also been selected to join the British Athletes Paralympic Futures Academy.
Luke Tucker
Training and playing with the Cardinal Hornets Basketball Club under 14s team inspired Luke to try out for the Newcastle Eagles Academy, successfully gaining a place on the under 14s team, despite being only 12. He was selected to attend Basketball England's Aspire Programme and is attending selection camps to represent the region.

Musician / Music Group of the Year - sponsored by Northgate Vehicle Hire
Drumedin
Drumedin is a community music group where everyone is welcome, which kept the group going through the pandemic with online rehearsals or, when allowed, outdoor rehearsals. The group have taken part in local carnivals and have used their music to raise funds for local food banks.
Gateshead Youth Orchestra
Throughout the pandemic the group have worked hard to ensure their music could continue through virtual and hybrid activities. The success of this has been an increase in the number of young people wanting to play for the orchestra. As a result of the online activities, which parents had to support for safeguarding/technical reasons, some parents now join in and it's hoped that in the longer term a larger family community orchestra will be established.
True Colours Theatre
True Colours Theatre offers inclusive theatre and performing-art classes, targeted at children with disabilities and behavioural problems. They have supported 60 children in the sessions and a further 80 children in class environment through partnership working. The activities encourage young people, facing the most disadvantages, to believe in themselves and achieve their potential. They were finalists at the ITV National Diversity Awards.

Business in the Community Award - sponsored by HY Hubs
The Pickle Palace
The Pickle Palace has saved a dramatic amount of waste from going to landfill by collecting food that would be binned and using it at their markets where the local community can pay what they feel to fill a shopping bag. They run lunch clubs, work with local schools to teach cooking and sell happy bags of food to help people's money stretch further.
The Schooner
At the heart of the community, the pub has raised money through sales of the Gateshead FC Foundation burger and other purchases to help local charities and people. At Christmas they delivered dinners to local people that they knew needed them and are continuing to support other local businesses with local ales and musicians helping to spread the community spirit.
Trinity Square
Trinity Square has provided a safe, welcoming space for the public during the uncertainty of the pandemic and has introduced the #TrinityCares campaign to help protect those using the centre and focus on environmental issues. Trinity Square has given the local community to come together again with many family-friendly free events and over the last year increased it's fundraising activities donating more than £12,000 to its nominated charity Tiny Lives.