Autism friendly
Join the library
Find or renew books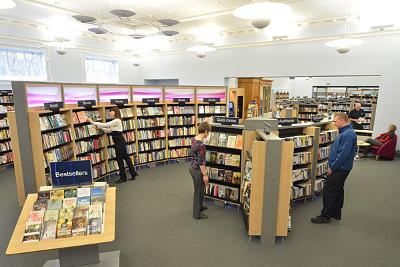 Libraries are autism friendly and library staff are on hand to help you.
Libraries have lots of books and audiobooks to borrow. The Central Library hires CDs and DVDs for a charge. Once you've joined, you can download eBooks and eAudiobooks from our eBooks website without visiting a library.
Libraries can help you find information and advice on events, activities and health, or signpost you to local services.
You can use the public computers in each library using your library card and PIN number. You can access the Internet and use office applications. There is no charge but you do have to pay for printouts.
What's it like in our libraries?
Each library building may look different but they all have staff who are happy to help, computers for you to use and shelves full of books. Libraries are generally quiet places where people talk quietly, relax and read books. Sometimes there are events and they can be quite lively, especially during school visits and story times for children. The Sound Gallery at the Central Library plays music through the day. If you want to find out about the best time to visit, please contact your local library and we can advise you.
How we can help
If you're nervous about visiting a library for the first time, you can telephone first and arrange to meet a member of staff who will be happy to show you around. Library staff are very helpful and can answer many different questions. If you have extra needs and would like staff to know about this, then it is OK to tell them. It's also OK to say if you're anxious about visiting the library.
In the library you might sometimes have to wait a little while if staff are busy with another customer, but we'll help you as soon as we can.
Joining the library
To borrow a book, a magazine or DVD, you need to join the library.
Staff will ask for your name, address, date of birth, telephone number and email address. They will also ask to see some identification such as a driving licence, bank statement or household bill. You will sign your library card then you can use it straight away to borrow books. You will also be able to choose a 4 digit PIN.
Borrowing from the library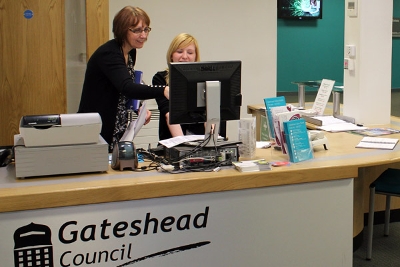 We can help you choose something to read: we have lots of recommendations. When you're ready and have chosen something to borrow, take it to the desk with your ticket and library staff will issue it on the computer.
The Central Library and Wrekenton library have a self service option. Don't be afraid to ask for help when using it for the first time. Staff will show you how it works and guide you through the on screen step by step instructions. With practice, the self service system is easy to use.
When you're finished with your books, you can return them in the same way.
Books are free to borrow and are usually issued for 3 weeks. If you return them late you will be charged a fine. If you can't get to the library, you can renew your books by telephone or through our website.
You will need a 4 digit PIN to renew books on our website so make sure you get one when you visit the library.
Books from volunteer-run libraries (Low Fell, Ryton, Whickham, Winlaton, Rowlands Gill, Dunston and Felling) cannot be renewed online. You must telephone the libraries directly or visit.
Other items, such as DVDs and CDs from The Sound Gallery at the Central Library and DVDs at Leam Lane, are issued for different loan periods. When you hire them, staff will tell you when they're due back. They cannot be renewed online or by telephone.
We hope you find this guide helpful and enjoy visiting Gateshead Libraries. If you would like more help or advice, you can always call us before your visit. Contact your local library for more information. We look forward to seeing you soon.