Victorian Baker's Shop

Artist
Neil Talbot

About
Made from 250 ceramic tiles, this beautiful sculpture replicates an old shop front.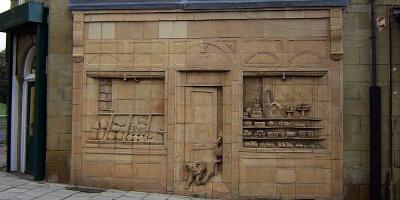 An old bricked-up window provided the site for Neil Talbot's relief sculpture of a Victorian Baker's Shop, at the junction of Carlisle Street and Sunderland Road.
The theme was suggested by the former function of the shop premises, and the sculpture's architectural features relate to Victorian shops which still exist in the area.
Made from 250 ceramic tiles - carved, fired in blocks and then assembled to form the shop front - the sculpture's natural stoneware finish is appropriate to its setting and theme. Neither glazed nor painted, the monochromatic colouring accentuates the links between ceramics and the baker's produce, both of which transform raw materials - clay and dough/pastry - through the heat of the kiln or oven.
Amongst trays of loaves and pies and stands of cakes and pastries, intriguing glimpses of the shopkeeper, a customer and dog invite passers-by - particularly children - to weave their own story round the shop. Though hungry shoppers may feel thwarted by Neil's ceramic confections, this is undoubtedly Felling's most unusual and appealing shop.
Completed in 1986.