Gritting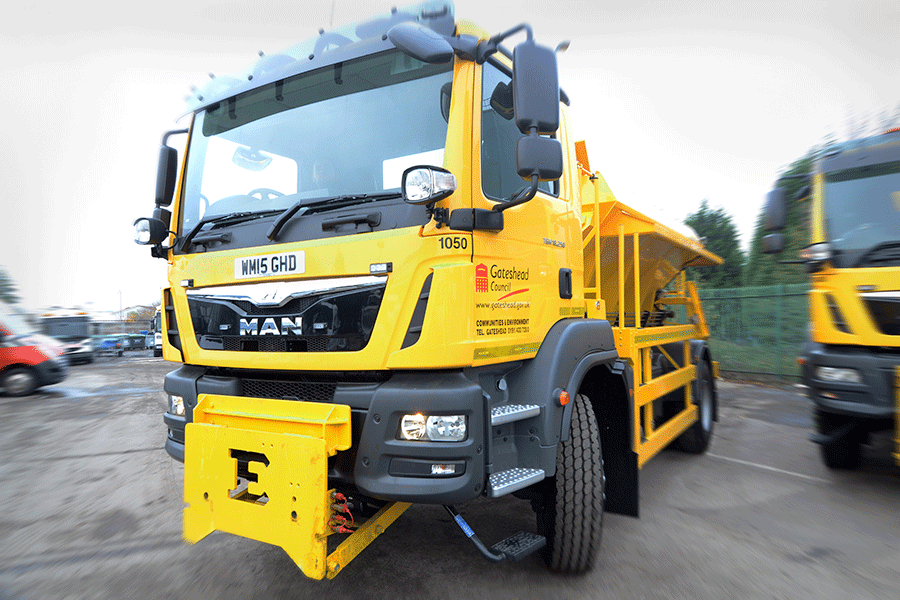 In bad weather, our team work around the clock to keep Gateshead moving.
Our winter maintenance regime begins as early as October with staff constantly monitoring weather data, CCTV cameras and weather reporting tools. Our fleet of a dozen gritter lorries are also on permanent stand-by and at the first sign of ice, frost or snow they hit the roads.
Gritting routes
In Gateshead we have 600 miles of road and we have to prioritise our gritting routes.
Our first priority has to be the roads with high level of traffic such as the Felling by-pass and the A195 through Blaydon
We then move onto other main roads and bus routes
We also do our best to clear footpaths by hand around shopping centres, bus stops, footbridges and where a large number of older people live
In deep snow we use snow ploughs to clear roads and help us continue gritting. This inevitably leads to snow being piled until we can clear it
We do not grit private roads
The A1 and A194 are gritted by the Highways Agency

Map of gritting routes throughout Gateshead [958.0KB]
Salt and salt bins
We provide salt bins to help you to keep residential streets clear.
Salt bins are topped up on a regular basis although during severe weather we can't provide timescales for this as our workforce will be very busy.
Salt heaps may be delivered in extreme weather situations based on location and footfall.
Please do not use salt from our salt bins on your own private property - salt bins are purely for communal use to help members of the public to keep roads and public footpaths safe for traffic and pedestrians.
We no longer sell rock salt to members of the public or businesses. Rock salt can be purchased at DIY stores across the borough.
Cameras
Residents and visitors to Gateshead can now access traffic cameras across Tyne and Wear. These cameras show regular images of traffic and weather conditions and may help to plan your journey. View the Tyne and Wear traffic cameras
Contact us
Waste Services and Grounds Maintenance
Gateshead Council
Civic Centre
Regent Street
Gateshead
NE8 1HH
Phone: 0191 433 7000
Fax: 0191 433 7554
customerservices@gateshead.gov.uk