Stray dogs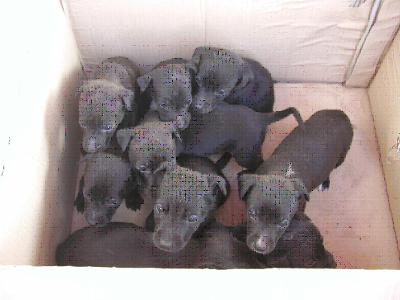 The law requires local councils to treat unaccompanied dogs on public land as strays and to remove them because of the potential problems they can cause.
Such problems include:
Road traffic accidents. Straying dogs often wander onto roads putting pedestrians, drivers and the dog at risk of serious injury or even death.
Aggression. An unaccompanied dog is an uncontrolled dog. It may be friendly but if it barks and jumps up, people can feel frightened and intimidated.
Ill health. Dogs that are not wormed regularly may have organisms in their faeces or on their coats that can cause problems ranging from stomach upsets to blindness.
Unwanted litters. Letting dogs roam around leads to unwanted puppies.
Spoiling the local environment. Dog faeces on streets and grassed areas, especially where children play or people enjoy walking, is a cause of major complaint and is simply not acceptable.
A dog owner who lets their dog out to roam must take responsibility for it and the Council has a strong enforcement policy for dealing with problems caused by irresponsible dog owners.
Dogs (Fouling of Land) Act
A person in charge of a dog has a duty to remove faeces from public areas, including back lanes, grassed areas, parks, streets, cemeteries and play areas.
If the faeces are not immediately cleared away, you will be issued with a £50 Fixed Penalty. If you don't pay the £50 within 14 days, you may be prosecuted. If you are found guilty, the magistrates can fine you £1000 (plus costs) and you will have a criminal record.
Dog owners who let their dogs out to roam are still responsible for it - so even if you are not with your dog at the time, you will receive a £50 Fixed Penalty Notice if it is seen fouling.
Address details on dog collars
The law also requires a dog to wear a collar with its owner's name and address on it or on a plate or badge attached to the collar. Not doing so is an offence with a maximum penalty of £5,000. (Please note, micro chipping does not exclude a dog from this requirement). Dogs collected by the dog warden service for the first time are scanned for microchips, if the details on the microchip are correct or if the dog has a collar with the owner's name and address then the dog will be returned to the owner. Dogs found straying on more than one occasion and dogs collected outside of normal working hours are taken to West Hall Boarding Kennels and Cattery, Cleadon Lane, West Hall, Sunderland, SR6 7UY.
If a dog is micro-chipped, the kennel staff will try to contact the owner within 24 hours of the dog being taken to the kennels. All fees must be paid before any dog that has been taken to the kennels can be reclaimed.
How can you find out if your lost dog has been found?
You can contact the Dog Control Service to see if we have picked up a dog that matches your dog's description. However, don't forget a member of the public might also have found your dog and handed it in. So, the best way to check if your dog has been found is to visit the kennels.
How does the owner reclaim the dog?
If someone loses a dog they have the responsibility of checking with the kennels. It is always best to visit the kennels to see the dogs, as verbal descriptions over the telephone may not be sufficient to identify the dog.
Can a person who finds a stray dog keep it?
The law requires that if a member of the public wants to keep a stray dog, then they must give the dog's details to the Police. (It is an offence not to do this). The owner has 30 days in which to reclaim their dog from a member of the public.
What can a member of the public do if they find a stray?
If you find a dog straying in the Gateshead borough then please contact the Gateshead Council on 0191 433 3000.
Contact us
Dog Warden Service
Gateshead Council
Civic Centre
Regent Street
Gateshead
NE8 1HH
0191 433 3000