Mayor of Gateshead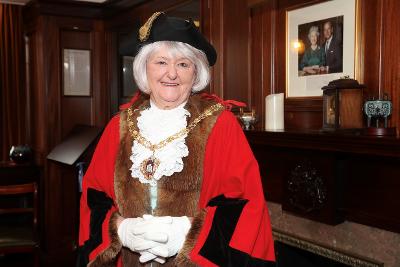 Councillor Dot Burnett is Gateshead's new Mayor having taken over the role from two terms acting as Deputy Mayor. She will be supported by Councillor Robert Waugh as her Deputy Mayor.
Elected as a Councillor for the Dunston & Teams Ward in 2018 the new Mayor has worked within the Trade Unions and has chaired National Meetings within this sector.
Supported by her son, Christopher Burnett who will act as the Mayor's Consort, Councillor Burnett has nominated Communication Workers Union Humanitarian Aid (CWUHA), The Firefighter's Charity and Mental Health Concern as her chosen charities.
Councillor Burnett is quoted as saying: "It is an absolute honour to be Mayor of the Borough where I have lived almost all of my life. I'm proud to be able to represent Gateshead and I look forward to my year ahead where I'll be able to meet a vast amount of people during my term in office."
Councillor Robert Waugh the Deputy Mayor of Gateshead will be supported by the Deputy Mayoress, Councillor Jennifer Reay.
Find out about our civic traditions
Documents
Mayor of Gateshead Charity information [163.5KB]
Mayor Attendance form [58.38KB]
Mayor Attendance guidance notes [50.53KB]
Mayors/Mayoresses of Gateshead since 1974 [13.96KB]
Mayors/Mayoresses of Gateshead 1835-1973 [26.62KB]
Contact us
Civic Officer and Mayor's Secretary
0191 433 2011