Tyneside Beekeepers Association (TBKA)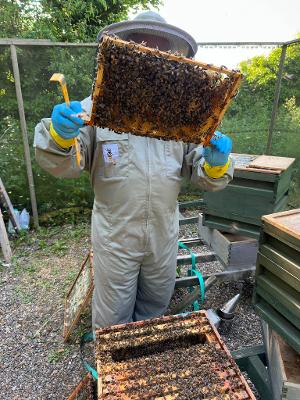 The Tyneside Beekeepers Association (TBKA) are an affiliated association of the British Beekeeping Association (BBKA) that can offer advice and training on beekeeping, gardening for honeybees and pollinators and much more! They sell a variety of local hive produce (honey, beeswax, candles etc) and merchandise from their club apiary which is based in Saltwell Park. The funds they raise as volunteers go back into the club and help to cover the purchase of new beekeeping equipment and maintenance costs.
They are at the park most weekends (weather permitting) in the spring and summer.
They offer taster sessions if you want to loan a bee suit (children bee suits also available) and join them for a hive inspection of their local honeybees.
The Tyneside Beekeepers Association hold monthly member meetings which feature guest speakers, demonstrations and training sessions. They are held on the last Tuesday of each month from September - May. (Paused during swarming season)
You can Find a local swarm collector using the BBKA swarm collector webpage which will provide you with their general location and contact information
Opening hours
Spring/ Summer : Most weekends weather permitting
For parking: use postcode NE8 4Sp