Crafts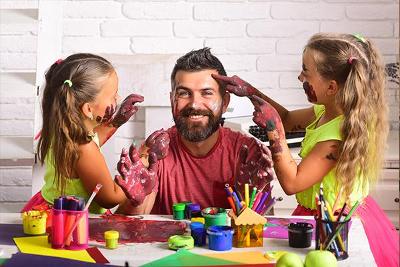 You can get crafty with lots of items you can find at home or that you can pick up outside in your local park. Here are some creative ideas to get you inspired.
Nature crafts
Why not go on a Scavenger Hunt to the park or woods and collect some leaves, twigs, sticks, rocks or pebbles and use nature to create some fun and interesting craft ideas!
Explore the textures, shapes and colours. Natural items make great activities for dolls, cars, dinosaurs and so much more.
---
Rock painting
Paint rocks with paints or permanent marker pens in any design and hide them in your local area, check out the Facebook page Gateshead Rocks to see if you rock has been found.
---
Pom poms
Pom poms are really easy and fun to make, all you need is some wool, a large needle, card and scissor and, if you have some googly eyes, you can create wonderful insects and animals.
---
Lollipop sticks
With a packet of lollipop sticks you can create cute Easter bunnies and chicks. Draw around your hand and with a lollipop stick in the centre, you can make a beautiful butterfly. If you're feeling magical why not create an elf or fairy door and let your imagination run wild?
---
Pipe cleaners
Pipe cleaners can make wonderful, colourful crafts such as rainbows, bracelets or finger puppets. Just get bending and twisting and see your creations appear before your eyes.
For more information about activities to do during the spring holidays please visit childrenscentres or libraries.
Send any feedback or photographs of your creations and imaginative ideas to gatesheadchildrenscentre@gateshead.gov.uk