Events assistant - Level 3 apprenticeship
Are you a project management or event planner who is looking to develop their events team?
You could benefit from fully-funded training to allow you to recruit an apprentice or offer an apprenticeship to a current employee carrying out a diverse range of tasks necessary to plan, organise and deliver an event: for example, searching for the right location and venue for the event; working with the design team on the look and feel of the event; or organising logistics like transportation and catering.
This programme is ideal for anyone typically working within a team of people in an events company or within the events department of a larger organisation. The events organised may be for the company where the Event Assistant is working or could be for a variety of different clients including large corporations, smaller companies and not- for-profit organisations.
An Event Assistant apprentice will be able to:
Have an enthusiastic and positive approach to providing swift and accurate service.
Show tact and discretion with sensitive information.
Contribute to conversations with team members and share ideas with confidence.
Remain calm and positive under pressure.
Take pride in producing accurate work with a consistently strong attention to detail, seeking clarity where necessary.
Use initiative when faced with problems or challenges and be flexible to the needs of the project.
Demonstrate consideration and respect for team members regardless of sex, race, religion and other differences.
Frequently seek and act upon feedback, reflect on performance and show commitment to self-development.
Demonstrate personal commitment to sustainability by minimising the negative affect on the environment caused by work activities.
The length of this apprenticeship is typically 12-18 months. The first 12 months consists of on programme learning/portfolio building during this time preparing for the end-point assessment which will take place in the final months Apprentices will need to have a minimum of Level 2 (Grade A-C) Maths and English. Apprentices without level 2 English and Maths will need to achieve this level prior to taking the end-point assessment.
If you're interested, call our business development team now on 0191 433 8727 or email apprenticeships@gateshead.gov.uk
Golf and spa resort brings new talent into fold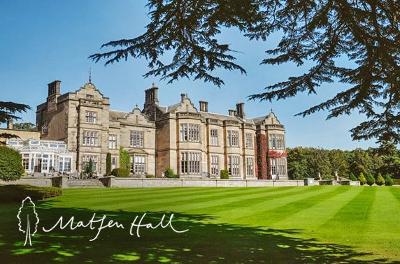 Matfen Hall Hotel Golf and Spa in Northumberland decided to bring a new apprentice into its events and sales team as it was a cost-effective way to bring great new talent to its expanding operation.
Victoria Paterson, Sales & Revenue Manager said: "We always strive to do well by our dedicated team and place huge emphasis on growing our own and providing ongoing training and qualifications to ensure we always have the best people for the job and continue to provide great customer service. The Events Assistant Standard is a great way to ensure our people are at the very top of their game and to ensure we are constantly looking to improve working practices.
"After consulting with Gateshead Council's business development team, we decided to work with learningSkills as they place huge value upon professionalism, ethical practice and provide a high quality service, all of which closely align with our own core values." Victoria added that the best part of the apprenticeship is that the bulk of the programme is based on-the-job with minimal time away from the workplace and the assessor is an industry professional who comes to them.
"learningSkills consulted with us regarding our individual business requirements, agreed upon an interview date, pre-screened applicants, carried out an initial interview and then two weeks later produced an itinerary of short-listed candidates for us to interview in our own way. Rachel has been with us for a few weeks now and already we have seen a vast improvement in efficiency and things are looking great for setting her up with the skills she needs to build a lasting career in events."
If you're interested, call our business development team now on 0191 433 8727 or email apprenticeships@gateshead.gov.uk