Community Activator - Level 2 apprenticeship
Are you an organisation that works with groups of inactive people and need to promote fun and engaging activities that will lead to an active lifestyle?
You could benefit from fully-funded training to allow you to recruit an apprentice or offer an apprenticeship to a current employee who can work with a diverse range of people, especially those defined as inactive or not doing enough physical activity in their lives.
The Community Activator Level 2 Apprenticeship is perfect for:
Leisure centres
Sports clubs
Sport charities
Youth work agencies
Outdoor recreational centres
Gyms
Care homes
The apprenticeship offers a range of benefits. Fully-funded training and Government cash grants means this is cost effective to grow your workforce or improve staff retention and motivation. It can bring new skills to your company and increase your capacity to deliver fantastic projects which in turn can grow membership, increasing your income and the use of your facilities.
A Community Activator apprentice will be able to:
Plan and adapt session and activities that encourage customers to develop a lifelong activity habit
Use social media to target messages to identified customer groups
Encourage repeat business through sports and activity sessions
Coach or lead pre-planned sport or physical activity sessions
Promote a physical activity offer
Promote families to participate together in sport or physical activity
Maintain personal and customer safety and wellbeing
Successful Community Activator Coaches will be rewarded with membership to CIMSPA Chartered Institute for the Management of Sport and Physical Activity.
If you're interested, call our business development team now on 0191 433 8727 or email apprenticeships@gateshead.gov.uk
Football club scores with first apprentice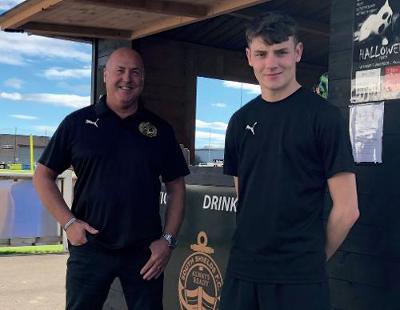 South Shields FC, a North East Non-League football team with ambitions to reach the Football League as a community club, has taken on its first apprentice. Zak Turner-Cooke, 18, from East Boldon, began a Community Activator Level 2 Apprenticeship last month with South Shields FC Foundation, the Club's charitable arm, in partnership with Gateshead Council LearningSkills.
The Foundation has a health and wellbeing remit that extends beyond young people and football. It encompasses a broad range of activities for all ages and abilities. These include social interaction, hysical
activity, learning opportunities, volunteering and taking an interest in the community, which is why the Community Activator Apprenticeship was a perfect fit.
Head of Foundation, Steve Camm, said: "The Foundation is absolutely delighted to announce the creation of its first job with the appointment of Zak as an apprentice for the next 15 months. "Zak is no stranger to the Foundation having regularly delivered holiday courses as a volunteer coach. When the opportunity came about to create an apprenticeship, Zak was an obvious choice. His enthusiasm and positive manner with young people is both welcomed and infectious."
"Zak's apprenticeship is delivered in partnership with Gateshead Council LearningSkills and together we hope to support him to grow as an employee and improve his long-term employability prospects."
"He has made a terrific start, grasping the opportunity and supporting the creation and delivery of our community programmes for children and adults as the Foundation looks to grow its impact on the health
and wellbeing of local people and increase its financial sustainability."
Looking for a more advanced qualification?
The Community Sport & Health Officer Level 3 is perfect for full time gym, leisure centre or health club employees. This fantastic qualification is about delivering core business activities in the fields of leisure, sport, youth work, outdoor education or public health. Tasks will include supervising sessions, liaising with partner organisations, designing marketing and updating social media. This training will help apply tactics and strategies to empower inactive people to become active through sport and other activities.
If you're interested, call our business development team now on 0191 433 8727 or email apprenticeships@gateshead.gov.uk