Becoming an adult and preparing for the future (16+)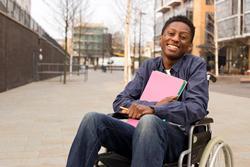 All young people face major changes as they move from being teenagers to becoming adults and need to make important decisions about their future. This change can be even more complicated if you have special educational needs, a learning difficulty or disability. It is important that these young people receive the right support to achieve a smooth transition into adulthood.
SEND Multi-Agency Transition Protocol
Along with our partners we have developed a multi-agency Transition Protocol. The protocol highlights how all services and organisations work together so that young people with an EHC Plan are supported and prepared to move onto their next step into further education, training, employment or social care.
Gateshead SEND Multi-Agency Transition Protocol [472.8KB]
Learning pathways - Preparing for Adulthood from Year 11 onwards
This diagram outlines the various learning pathways available to young people with SEND in Gateshead from Year 11 onwards. Please note that there is eligibility criteria and access requirements attached to each pathway. To find out more information about whether a learning pathway is appropriate for you/your child, you can phone an Information, Advice and Guidance (IAG) Advisor on 0191 433 3856, or email IAG@gateshead.gov.uk
Learning Pathways for students Year 11 onwards (2018-19) [103.29KB]
Mainstream colleges and school sixth forms
For most young people with an SEN or disability, their education and training needs from the age of 16 can be met through mainstream providers such as school sixth forms and colleges.
Information about how schools and colleges provide support for children and young people with SEN should be available on their website or on request. They will be able to clarify how your needs can be met before an application is made for a placement so direct contact to the sixth form or college is recommended.
Most sixth forms and mainstream colleges hold open days where potential students can visit, find out more about courses that may be suitable for them and discuss things like accessibility and support. Mainstream colleges usually provide student support services specifically for students with learning difficulties or disabilities offering information, advice and guidance on topics like accessibility, health and safety, finance and one to one support. You need to apply for a place on a course at a mainstream college directly to the college. More information about application processes can be found on their website or by contacting them directly.
For more information select 'Preparing for Adulthood' in the Local Offer section of our Family Information Directory.
Gateshead College work and life skills supported courses
Young people with an Education, Health and Care Plan (EHC Plan)
If a young person has a statement or EHC Plan (also referred to as a Single Plan in Gateshead), a review meeting should have taken place in Year nine (age 13/14) where preparations start for when they leave school and begin their adult life. Following this meeting, transition planning must be written into the revised EHC Plan, including how any educational, health and social care needs will be met. This will include details about planning for the transition from school to further education, training or employment and where relevant, transition arrangements from children's to adult's social care and health care services and may also include things like support needed to find appropriate accommodation and to live independently. The EHC Plan will be reviewed every 12 months and any appropriate changes will be made following the review.
Preparing for Adulthood - information for parents/carers of young people with SEN and an EHC plan [189.44KB]
Independent Specialist Education Providers
In exceptional circumstances, young people with very complex needs may be eligible to access specialist educational provision through an Independent Specialist Provider (ISP). More information about how decisions are made about whether a young person may be eligible for a place at an ISP as part of the EHC Plan process can be found at Support for children with an Education, Health and Care Plan. ISPs will be able to provide detailed information about what they can provide for students with additional learning needs which you are able to find on their website or by contacting them direct.
Information about independent specialist colleges outside of Gateshead can be found in the Natspec Specialist Colleges directory.
Employment, apprenticeships, work experience and volunteering
A young person may decide that instead of continuing in education, they would like to get a job, apprenticeship, work experience or try some volunteering when they leave school. An Information Advice and Guidance (IAG) Adviser will be able to signpost to relevant organisations offering work experience, employment, training or apprenticeships or they can contact them on a young person's behalf. To find out
what Gateshead's IAG Advisors can offer [182.4KB] young people with SEND, telephone Gateshead IAG Service on 0191 433 3856 or email: IAG@gateshead.gov.uk for more information.
Gateshead College - work and life skills booklet
Riverside Hotel traineeship [637.26KB]
Apprenticeships
Gateshead Council's Adult Learning
Implementing a new 0 to 25 special needs system: further education
Implementing a new 0-25 special needs system: further education guide outlines the new duties that further education sector institutions have to meet as a result of the Children and Families Act 2014.
Information about employment, training courses and apprenticeships in Gateshead can be found under Preparing for Adulthood in the Gateshead Family Information Directory - Local Offer.
Visit Adult Social Care in Gateshead for information about the support available for adults with a disability living in Gateshead.
Local and national organisations that provide help and support can be found in the following booklets. You can also search www.ourGateshead.org.
Voluntary and community organisations booklet [597.65KB]
Contact a Family: Growing up, sex and relationships guide
Contact a Family have written a guide for parents about developing your child's self-esteem and keeping them safe, encouraging friendships, and how to talk to your child about puberty and the changes that are happening to them. The guide also covers safe sex and contraception, and what to expect of sex and relationships education in school.
Financial Advice and Support
Contact a Family have produced a useful booklet about financial advice and support that may be available to you if your child has a disability:
Money Matters Booklet [479.48KB]
Contact us
Special Educational Needs and Disability Team
Gateshead Council

senteam@gateshead.gov.uk

Follow us on Facebook

For further help and information visit the Learning Disability Matters website