Countryside Volunteers
Gateshead has some surprisingly important wildlife and nature reserves and we need your help to care for them.
Why become a countryside volunteer?
You can:
get work experience and learn new skills
learn about wildlife and nature conservation
make a difference to your local environment
visit Gateshead's woodlands, wetlands and other less well known special places
help other people to enjoy Gateshead's wildlife
get fit and improve your health and wellbeing
make new friends with similar interests
What can you do?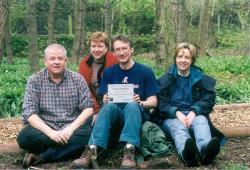 Practical tasks -Most of the work involved in being a volunteer countryside ranger involves practical work including eg planting trees or building footpaths. Don't worry if you have never done this before as training will be given.
Volunteer at Thornley Woodland Centre and provide advice and support to members of the public. Again don't worry about being an expert on wildlife and countryside as training will be given.
Volunteers also occasionally get involved in helping at Public events or taking part in Wildlife surveys.
Practical tasks run every Tuesday and Thursday meeting at Swallwell Visitor Centre.
Anyone can be a Gateshead Countryside Volunteer as long as they are over 18 years of age.
As part of the application you will be asked to provide references and you may required to complete a DBS (Disclosure and Barring Service) check.
How to volunteer
The first step in the volunteer process is to complete the expression of interest, regardless of the type of volunteering opportunity you are interested in.