LearningSkills Awards
The Gateshead Council learningSkills Awards is an annual event that celebrates learning. We recognise the successes of our learners, and the impact this has on their lives and the wider community.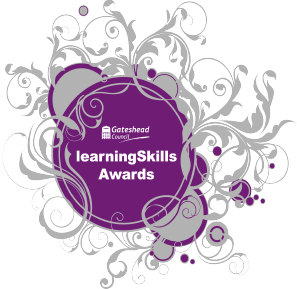 Being nominated for an award is a great achievement. We have over 8,000 learners a year, so everyone who is nominated deserves big congratulations.
We have 12 different award categories.
Individual learner/group awards
These awards recognise the achievements of individuals who have:
overcome barriers to learning
learned under challenging circumstances
been an inspiration to others
achieved something they didn't think was possible
transformed their lives or the lives of those around them
Young Persons' Award
This award recognises the achievements of outstanding young people (16-25) who have, through learning, transformed their own lives and the lives of families, friends, their communities or the places they work.
Apprentice/ Workplace Learner Award
This award celebrates the achievements of those who have undertaken an apprenticeship or learning in the workplace. They will have significantly improved their performance at work and made a special contribution within the organisation they work.
Family Learning Award
This award is specifically aimed at those involved in family learning programmes. This could be parents, grandparents, carers or a wider family unit. They should have participated in learning that has helped children improve their life chances.
Skills for Employment Award
This award is to recognise any learner who has made significant progress towards becoming employed. They may have overcome challenging circumstances, illness or a disability to be closer to gaining employment.
Learning for Life Award
This award celebrates the success of older learners who demonstrate that it is never too late to learn something new. They may have inspired others to do the same, found a new hobby or career or improved their physical or mental well-being as a result.
The Dawn Brown Community Learning Award
This award is in memory of our friend and colleague Dawn Brown who was an advocate for adult learning. You can nominate an individual or group of learners who have used learning to support their personal development or that of their community. They will champion learning and may participate in volunteering or support the development of others within learning.
Skills for Life Award
This award recognises the achievements of learners who have improved their English, maths, ICT or language skills. They will have overcome difficulties or challenges, either in their learning or personal lives, yet have still achieved their goals.
Learner of the Year Award
The most prestigious of our awards is for an individual who has demonstrated outstanding progress within their learning. They will have transformed their lives through learning, overcoming multiple barriers and challenges. They will have surpassed their own goals and expectations.
learningSkills Inspirational Person Award
A new award for 2018, the Inspirational Learner Award is for an individual who has worked tirelessly to improve the lives of the wider community. They will have tirelessly and relentlessly worked to promote learning which has led to others improving their life chances.
Organisation/employee awards
These awards recognise the achievements of organisations or employees who have:
consistently gone the extra mile to help others
provided opportunities that would otherwise not be available
championed learning and encouraged others to learn
supported others to achieve their goals
Employer Award
This award celebrates employers that have been a champion for learning amongst their workforce. They may have used learning to develop and utilise the skills of their workforce to improve productivity, raise morale, increase staff retention, enhance their business or improve the life chances of their employees.
Recognition Award
This award recognises inspirational tutors, assessors, support workers, community leaders or organisations who have been involved in the organising or delivery of learning. This learning has made a great difference and had a positive impact on individuals and the wider community.
Equality and Diversity Award
This award recognises the achievements of individuals, groups or organisations who have demonstrated a strong commitment to the promotion of equality and diversity across communities. They will be a champion for equal rights and the celebration of difference.