Call for funding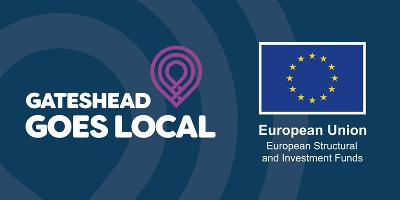 Gateshead Council have supported a Local Action Group (LAG) of public, private and third sector partners to bid for £2m of European Union funding. The fund is a combination of European Social Fund (ESF) and European Regional Development Fund (ERDF) money. The funding is to promote employment and enterprise initiatives in central Gateshead. What you can apply for, objectives and targets, outlines what the funding will support.
Applications will be considered quarterly and on a first come first served basis. Further calls for funding are likely.
Over the next five years through the Community Led Local Development (CLLD) programme, the fund will help:
long term unemployed residents move into jobs, training or self-employment.
support the growth of new and existing businesses, including social enterprises.
Grants of between £20,000 and £200,000 are available. All projects will need to provide match funding;
50% for potential ESF projects (supporting individuals)
40% for ERDF projects (for helping with business start-ups or offering business space).
Successful applicants will need to show how they will help deliver the employment and enterprise outcomes and results of the
Gateshead Goes Local, Local Development Strategy [3.34MB].
Organisations must be eligible to apply for EU funds and support must target the 20% most deprived areas within the following wards:
Dunston and Teams,
Bridges,
Felling,
Pelaw and Heworth,
Wardley and Leam Lane,
Windy Nook and Whitehills,
High Fell,
Chowdene,
Low Fell,
Deckham,
Saltwell and Lobley Hill
Bensham
How to apply
To apply request an expression of interest.
You will receive an Expression of Interest Form (EOI) to outline your initial ideas. Eligibility checker
If eligible you will be asked to complete a Stage 2 full application.
Matched funding does not have to be in place ahead of the expression of interest submission. It will need to be in place before Community Led Local Development funding approval.
Funding will only be confirmed after the Stage 2 application is approved by the LAG.
Gateshead Council has agreed to be the Accountable Body for the LAG and will administer funding on its behalf.
Get involved in Community Led Local Development
We would like to hear from you if you are a local resident or organisation who would like to become involved.
Contact Yvonnegill@gateshead.gov.uk or email clldinfo@gateshead.gov.uk for further information.