Home Instead Senior Care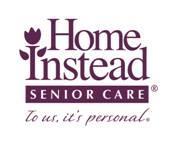 Home Instead Senior Care provides award-winning home care to elderly people, allowing them to stay in their homes for as long as possible.
A well established and highly respected independent UK home care provider, Home Instead Senior Care is part of a worldwide organisation devoted to providing the highest-quality care for older people in the comfort of their own homes. We offer a wide range of one-to-one services tailor made to the needs of the individual - and home visits can be from an hour a day up to 24 -7 care that includes weekends and holidays.
Services are flexible to the needs of each client. These can include personal care such as assistance with bathing, dressing, eating and medication; home help covering all aspects of day-to-day housework, shopping, meal preparation and household duties; and companionship services that can involve everything from escorting clients on visits or appointments to simple conversation and good company.
One of the most important aspects of our service is the provision of Caregivers who are empathetic, understanding and able to provide a highly professional service. Everyone who applies to become a Home Instead Caregiver is rigorously screened and scrutinised to ensure their suitability for the role.
Disclaimer
Gateshead Council does not endorse, accredit, approve or recommend any of the organisations that advertise their services on the Adult Social Care website.
Please read our Adult Social Care disclaimer for more information.