First Call Healthcare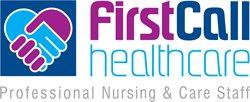 We specialise in the provision of Qualified Nurses and Care and Support Staff throughout the North East of England.
We offer a professional client focus service by our dedicated and experienced management team. This service is available 24hrs, 7 days a week including all Public Holidays. First Call Healthcare is registered with the regulatory body Care Quality Commission and we are proud of our 3 star "Excellent".
Disclaimer
Gateshead Council does not endorse, accredit, approve or recommend any of the organisations that advertise their services on the Adult Social Care website.
Please read our Adult Social Care disclaimer for more information.