Gateshead Advice Centre

Price
Free unless a client needs help at an Employment Tribunal when costs apply.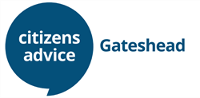 Citizens Advice Gateshead is part of the national Citizens Advice service. We aim to provide the advice people need for the problems they face and improve the policies and practices that affect people's lives. We provide free, independent, confidential and impartial advice to everyone on their rights and responsibilities. We value diversity, promote equality and challenge discrimination.
At Citizens Advice Gateshead our aim is to empower our clients with the advice and information they need to solve their problems. Our main areas of advice are in debt, welfare benefits, housing, employment and consumer issues. We can also signpost clients to other services more appropriate to their needs. We also offer assistance in filling in forms. On Thursday evenings free 15 minute initial appointments with a solicitor are available.
Disclaimer
Gateshead Council does not endorse, accredit, approve or recommend any of the organisations that advertise their services on the Adult Social Care website.
Please read our Adult Social Care disclaimer for more information.