Education
Join the library Find or renew books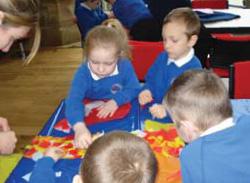 Due to the Covid-19 pandemic, the Centre is not currently taking bookings for class visits. If you are interested in booking a visit from September 2021, please get in touch and we can make a tentative booking.
A class or group visit to St Mary's Heritage Centre can help bring the past to life.
What is there to see?
Our magnificent building provides an inspirational setting for learners of all ages. Key historic features include:
memorials and commemorations to people of local significance (inside the building and in our historic graveyard)
evidence of fire, cannonball attack and cholera
clues about the medieval and earlier origins of the building
Sessions available
Great Fire of Gateshead
Our popular two hour session links to the Key Stage 2 History Curriculum and looks at the events of Friday 6 October 1854 and the impact it caused to the people and places on the Quayside.
The session includes:
using maps, photographs, images, and artefacts to explore how everyday life in Victorian Tyneside differed from today
an interactive walk along the Quayside exploring the key locations associated with the fire (weather permitting)
exploring the similarities and differences between The Great Fire of Gateshead and The 1666 Fire of London
You will also receive a pack of many of the images and resources used in the visit for follow up sessions back in the classroom.
Prices
This 2 hour session is £90 per class. Admission to the building is free.
Planning a field trip to the Newcastle/Gateshead Quayside?
We can offer bespoke sessions linked to your visit and subject.
Please contact us to discuss how we can help.