Growing up, adolescence and secondary school (10-16 years)
Support with transition from primary to secondary school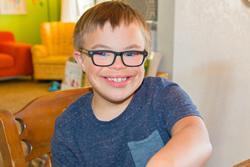 Your child's teacher and primary school can provide the necessary support to achieve a successful transition to secondary or another school. Look for SEN information on their website or request it directly from the school, which should include specific information about how they support children during transition.
Applying for a place at a mainstream secondary school/academy
Parents MUST apply for a place at a mainstream secondary school in Gateshead by the end of October in the year before their child is due to start (even if they EHC Plan). More information about how to apply for a mainstream secondary school place can be found on our website or by contacting the School Admissions Team on 0191 433 2757.
SEN support in mainstream secondary schools in Gateshead
With the right support and resource and depending on the level of Special Educational Needs (SEN) or disability, most children's needs in Gateshead can be met in mainstream schools/academies, including those with an Education, Health and Care Plan (EHC Plan).
There are nine mainstream secondary schools/academies in Gateshead. Information about how they provide support for young people with SEN or a disability should be available on the school's website or by contacting the school directly. You can also look on the school's website for useful information like the school prospectus, performance results and Ofsted inspection reports, which you may also be able to view in our schools directory. In addition, you can contact the school direct to find out more information; a good person to speak to is the school's Special Educational Needs Co-ordinator (SENCO), whose role it is to co-ordinate SEN provision in the school.
Find information about how schools are expected to provide support for children and young people with an EHC Plan (those with very complex needs) and those supported at SEN Support (those with less complex needs).
Reviewing a child's needs and support
Once at secondary school, your child's progress should be reviewed regularly by the school and discussed with you and other professionals involved with your child. If your child has an Individual Education Plan (IEP), this should be reviewed usually 2-3 times a year by your child's teacher to monitor what progress is being made and to set new targets for your child.
If your child has an EHC Plan, reviews will be held in the school every term and a formal review meeting should take place at least once a year. This is a chance to discuss how your child's education, health and care needs are being met and whether any change to the level of support being provided is appropriate. Parents must be invited to all review meetings; you can invite a friend, adviser or independent parental supporter to be at the meeting with you. The Barnardo's SEND Information and Advice Service can support you during this stage. Other relevant people like a health or social care worker may also attend review meetings.
Support for children with an Education Health and Care Plan (EHC Plan)
If a school cannot meet a child's needs using its notional budget and more support is needed, the Local Authority (LA - Gateshead Council) can provide additional funding for additional support following an assessment. It is at this stage that the Council may arrange for a 'statutory needs assessment' to happen and an Education, Health and Care Plan (EHC Plan) may be issued as a result.
If an EHC Plan is needed, it will identify the needs of your child, the support that will be provided across the areas of education, and (if it's required) health and social care, when, how and who will provide the support, what it will help your child achieve (outcomes) and when and how support will be reviewed.
More information about the EHC Plan assessment process, including how you can request an assessment
Help and support available for children who do not require an EHC Plan
Who can help if your child isn't getting the right support at school
If you feel your child is not getting the right level of support, you are not being fully involved or kept up to date with your child's progress, you should firstly approach your child's class teacher or the school SENCO to discuss any concerns. If you need support to do this, independent advice and support is available through the independent Barnardo's SEND Information and Advice Service on 0191 478 4667 email: DIASS@barnardos.org.uk.
If you are still not happy, you should follow the nursery/school complaints procedure.
Transition to secondary school
If your child is in a mainstream school and your preference is for them to attend a mainstream secondary school, you should start to think about which school you want your child to transfer to during Year 5. You need to apply for a place in a mainstream secondary school early in the Autumn term when your child is in Year 6. Applications must be made by 31 October.
The process is different if your child is currently in a special school and is transferring to a secondary special school. You will be invited to attend a Year 6 review meeting where your child's secondary school placement will be discussed. Placements at secondary special schools in Gateshead are decided on by the SEND panel, a multi agency professionals group. They decide which secondary school is the most appropriate for your child, taking your preferences into consideration. Your SEN Caseworker can discuss this process with you. Once the decision is made, your SEN Caseworker will contact the special school to ask if they can meet your child's special educational needs and relevant visits can be made. Once the school is confirmed, your child's EHC Plan will be finalised and you will be informed of the arrangements that will be put in place to ensure your child's move to secondary school goes smoothly. This should be done before the 15th February of the year that your child starts secondary school.
If you do not agree to the secondary school that is named on your child's EHCP, you can appeal to the SEN and Disability First-Tier Tribunal.
Leaving school and preparing for adulthood
From Year 11, an Information Advice and Guidance (IAG) Advisor can offer advice and support for young people with SEN on a range of lifestyle issues such as careers, education, training, employment, health and personal development opportunities across Tyne and Wear.
Find out what Gateshead's IAG advisors can offer young people with SEND [182.4KB], Telephone Gateshead Early Help IAG Service on 0191 433 3856 or email: IAG@gateshead.gov.uk for more information.
For young people with an EHC Plan, a review meeting will take place in Year 9 (age 13/14) where plans are made for them leaving school and beginning adult life; looking particularly at a young person's education, health and social care needs and outcomes they will achieve to help prepare them for adulthood. Find more information about leaving school and preparing for the future.
Along with our partners we have developed a multi-agency SEND Transition protocol. The protocol highlights how all services and organisations in Gateshead work together so that young people with an EHC Plan experience a successful transition to their next placement.
Gateshead SEND Multi-Agency Transition Protocol [472.8KB]
14+ Annual health check
People with a learning disability often have poorer physical and mental health than other people. This does not need to be the case.
Annual health checks are for adults and young people aged 14 or over with a learning disability. An annual health check helps you stay well by talking about your health and finding any problems early, so you get the right care. You do not have to be ill to have a health check - in fact, most people have their annual health check when they're feeling well.
Find out more on the NHS website
View a film encouraging young people aged 14 years and over, who have special educational needs, to access their annual health check, made by students from Catcote school in Hartlepool.
More information
Gateshead Council's Family Information Directory
The directory includes a Local Offer section with information about the advice, support and services available for young people with SEN or a disability and their parents/carers.
Local and national organisations
Local and national organisations that provide help and support can be found in the booklet below. You can also search www.ourGateshead.org
Voluntary and community organisations booklet [597.65KB]
Where can I get advice, help and support in Gateshead?
Contact a Family: Growing up, sex and relationships guide
Contact a Family have written a guide for parents about developing your child's self-esteem and keeping them safe, encouraging friendships, and how to talk to your child about puberty and the changes that are happening to them. The guide also covers safe sex and contraception, and what to expect of sex and relationships education in school.
Growing up, sex and relationships guide
Financial Advice and Support
Contact a Family have produced a useful booklet about financial advice and support that may be available to you if your child has a disability:
Money Matters Booklet [479.48KB]
Contact us
Special Educational Needs and Disability Team
Gateshead Council

senteam@gateshead.gov.uk

Follow us on Facebook

For further help and information visit the Learning Disability Matters website