Early years and primary school (0-10 years)
Identifying additional needs in the Early Years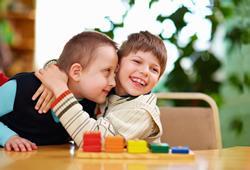 A health review will be carried out when your child is around age 2-3, usually by a health visitor at your local children's centre, GP surgery or at home. In addition, if your child attends an early years setting like a nursery, between the age of 2 and 3 a progress check will be carried out which looks at your child's development in three prime learning and development areas - personal, social and emotional development, physical development and communication and language.
These checks help to identify as early as possible any additional development needs so that relevant support can be provided. If there are concerns, assessments can then be carried out, if necessary, to make a diagnosis or to find out what kind of support your child may require.
If you are concerned about your child's development or think they may have an undiagnosed disability or additional need, you should speak to your health visitor or GP as soon as possible, who should be able to help you get the advice, help and support you need. For more information, see the Diagnosis and Assessment section.
Finding the right childcare
It is important that you find the right kind of childcare for your child, especially if they have additional needs or a disability to ensure their needs can be met. The Family Information Directory contains information about childcare providers, for example childminders, day nurseries, holiday, breakfast, out of school clubs and crèches.
Gateshead Council's Family Information Service can contact childcare providers to ask questions on your behalf and help you find a suitable childcare setting that has experience in caring for children with additional needs or disabilities. For more information contact 0191 433 5122 or email fis@gateshead.gov.uk
Nursery education (age 2-4 years)
Nursery education is usually from the term following a child's third birthday. However, some children are entitled to receive 15 hours of free childcare at a nursery, pre-school or from a childminder the term following their second birthday if they meet the following criteria:
Special Educational Needs:
they have an Education, Health and Care Plan
they attract Disability Living Allowance
Care and Adoption Criteria
they are Looked After by the Local Authority

they have left care through a child arrangements order, special guardianship or adoption
Economic Criteria
If parents/carers are in receipt of certain benefits, for example:
Income-based job Seekers Allowance
Income Related Employment and Support Allowance
Support Under Part V1 of the Immigration and Asylum Act
Child Tax Credit (but not Working Tax Credit) and a household income of less than £16,190
Working Tax Credit 'run on' (payment someone may receive for a further four weeks after they stop qualifying for Working Tax Credit)
The guaranteed element of the State Pension Credit
If entitled to Universal Credit- must have an annual net earned income equivalent to and not exceeding £15,400, assessed on up to three of the parent's most recent universal credit Universal Credit assessment periods
Information about how a nursery supports children with special educational can be found in its own 'Local Offer' or 'SEN Information Report', which should be available on their website or by contacting the nursery direct.
More information about free childcare for 2, 3 and 4 year olds at a nursery, pre-school or from a child minder.
Alternatively contact the Family Information Service on 0191 433 5118 or email fis@gateshead.gov.uk
Resources for parents
The Portage Hub offers some useful guides for parents of babies and children with additional needs and disabilities.
Starting primary school (age 4-11 years)
Primary school education is between the ages of 4-11. A child reaches compulsory school age (i.e. they must be in education) the term after their fifth birthday and normally starts school at the beginning of the academic year (in September) in which they reach their 5th birthday. You must apply for your child to be admitted to a primary school a full year before they are due to start (for example at the age of 3). You can find more information here about applying for a primary school place or by contacting Gateshead's School Admission Team on 0191 433 2757.
Gateshead's School Directory contains information about mainstream nurseries, primary schools and special schools in Gateshead. Click on the website address of the school you wish to view and look for the school's 'SEN information Report' or 'Local Offer' which explains how their school can support children with SEN or disabilities. Other information like the school prospectus, performance results and Ofsted inspection reports can also be found in the directory and on their website. You can contact nurseries and schools directly to ask more detailed questions about how your child's needs could be met in school before applying for a school place to ensure the right nursery or school is chosen. The school's Special Educational Needs Co-ordinator (SENCO) or Head Teacher should be able to help you with this information.
Support in mainstream primary schools in Gateshead
The majority of children with special educational needs in Gateshead, including those with an Education Health and Care Plan, attend mainstream schools and receive help through the school's own resources. Each mainstream primary school and academy has an amount of money in its own budget called a 'notional budget' which should be used to support its pupils with SEN. It is up to the school how they spend this funding but it should appropriately address the needs of those pupils with SEN. It does not have to be spent on individual children, for example, the school could use it to employ additional teaching assistant support, buy special equipment and resources or arrange training for school staff on SEN. Every school has a duty to provide information which explains how they support children with SEN which should be available on their website or by contacting the school directly (this is sometimes called a Local Offer or SEN Information Report).
More information about the extra support schools are expected to provide for children with SEN.
Support for children with an Education, Health and Care Plan (EHC Plan)
If a school cannot meet a child's needs using its notional budget and more support is needed, the Local Authority can provide additional funding for additional support following an assessment. It is at this stage that the Council may arrange for a 'statutory needs assessment' to happen and an Education, Health and Care Plan (EHC Plan) may be issued as a result.
If an EHC Plan is needed, it will identify the needs of your child, the support that will be provided across the areas of education, and (if it's required) health and social care, when, how and who will provide the support, what it will help your child achieve (outcomes) and when and how support will be reviewed.
Reviewing your child's progress at school
At nursery/school, your child's progress should be reviewed regularly by the nursery/school and discussed with you and any other professionals involved with your child. If your child has an Individual Education Plan (IEP), this should be reviewed usually every term by your child's teacher to monitor what progress is being made and to set new targets for your child. You and your child should be fully involved and informed during the review process. If your child has an EHC Plan, reviews will be held in the school every term and a formal review should take place at least once a year to discuss how your child's educational, health and social care needs are being met and whether any change to the level of support being provided is necessary.
Parents must be invited to all review meetings; you can invite a friend or adviser to be at the meeting with you.
Find out how the Barnardos SEND Information and Advice Service can help you get an Independent Parental Supporter.
Other relevant people like a health or social care worker may also attend review meetings.
Who can help if your child isn't getting the right support at nursery or school
If you feel your child is not getting the right level of support, you are not being fully involved or kept up to date with your child's progress; you should firstly approach your child's class teacher or the SENCO to discuss any concerns. If you need support to do this, independent advice and support is available through the independent Barnardos SEND Information and Advice Service on 0191 478 4667 or email DIASS@barnardos.org.uk.
More information about how this service supports parents of children with SEN and/or disabilities in Gateshead can be found on the Barnardos website.
If you are still concerned, you should follow the nursery/school complaints procedure.
NHS Little Orange Book
The
Little Orange Book [6.7MB] contains tips and advice on how to manage common illnesses and problems that babies and young children often experience in the first five years of their lives. It also has more information on more serious conditions, what to look out for and how to get help
More information
Gateshead Council's Family Information Directory
The Family Information Directory includes a Local Offer section with information about the advice, support and services available for young people with SEN or a disability and their parents/carers.
Early Support Booklets
Autism spectrum disorder [306.1KB]

Behaviour [269.6KB]

Learning disability  [542.82KB]

Speech, language and communication needs [247.91KB]

Living without a diagnosis [183.8KB]

Rare condition [180.34KB]
Local and national organisations
Local and national organisations that provide help and support can be found in the following booklets. You can also search www.ourGateshead.org
Voluntary and community organisations booklet [597.65KB]
Where can I get advice, help and support in Gateshead?
Financial Advice and Support
Contact a Family have produced a useful booklet about financial advice and support that may be available to you if your child has a disability:
Money Matters Booklet [479.48KB]
Contact us
Special Educational Needs and Disability Team
Gateshead Council

senteam@gateshead.gov.uk

Follow us on Facebook

For further help and information visit the Learning Disability Matters website