Early Years Support (0-4 years)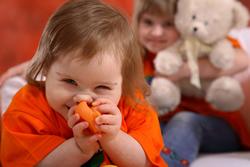 In Gateshead, we believe that early action to address identified needs is fundamental to the future progress and improved outcomes that are essential in helping a child to prepare for the next transition in their life.
This is a team of specialist teachers, portage workers and specialist teaching assistants. They work closely with children and families, schools and settings and with other Professionals and are skilled and experienced in working with children with special educational needs and disabilities. The team may offer assessments, interventions, support and reviews for children experiencing barriers to their development and learning, and for whom specialist intervention may be recommended.
The Early Years Assessment and Intervention Team:
offer assessment, targeted intervention, advice, coaching and modelling sessions for children from 0-4 who are experiencing significant barriers to their development and learning
establish and develop partnerships with parents/carers in supporting children with SEN
offer coordinated, holistic and multi-agency assessments, interventions and reviews
develop effective strategies to enable children to access their education in an inclusive environment
liaise with parents/carers and practitioners to develop appropriate action plans
develop and support transition to the child's next educational placement
contribute to the EHC Plan process
maintain data and carry out evaluations for the Local Authority
Eligibility Criteria and Referral Process
Referrals are made through the pre-school referral panel which has multi-agency representation, assesses referrals received and recommends outcomes.
Pre school referral form [718.59KB]
EHC Referral Panel information for parents [326.73KB]
For more information, contact:
Early Years Assessment and Intervention Team
0191 433 8734
christinabirkinshaw@gateshead.gov.uk
Gateshead's Area SENCO's - supporting Early Identification and Intervention
There are two Area Special Educational Needs Co-ordinators (SENCO's) in Gateshead who provide support, advice and training and information to schools, pre-schools, playgroups, childminders receiving 2/3 year old funding and private day nurseries on inclusive practice for children with SEND to help make sure that all children are fully included within the setting. Schools and early years settings can seek advice from the Area SENCO's at the first signs of a concern. The SENCO team is flexible and reactive and there is no referral process.
Area SENCO leaflet [188.66KB]
Early years SEND Audit 2017 [824.38KB]
For more information, contact:
Jean Thompson or Melanie Vincent - Area SENCO's
0191 433 8657 or 0191 433 8661
jeanthompson@gateshead.gov.uk or melanievincent@gateshead.gov.uk
NHS Little Orange Book
The
Little Orange Book [6.7MB] contains tips and advice on how to manage common illnesses and problems that babies and young children often experience in the first 5 years of their lives. It also has more information on more serious conditions, what to look out for and how to get help.
Resources for parents
The Portage Hub offers some useful guides for parents of babies and children with additional needs and disabilities.
Contact us
Special Educational Needs and Disability Team
Gateshead Council

senteam@gateshead.gov.uk

Follow us on Facebook

For further help and information visit the Learning Disability Matters website