Gateshead Volunteers' Month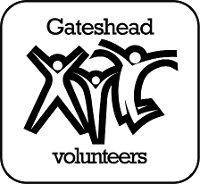 Volunteering, or people helping out, is celebrated nationally through volunteers week in June. We have extended the initiative to a month of activities and events to help promote, raise awareness and encourage volunteering and helping out activity in Gateshead.
The focus of Volunteers Month changes annually to help reflect the needs and aspirations of residents and community organisations. Each year has built on the previous year and as a result, each year there has been a significant increase of involvement of charities, community groups and volunteers.
This is our seventh year celebrating the fantastic contribution made by all the volunteers of Gateshead. As usual throughout June, there's a lot going on to whet your appetite and encourage you to take that first step to becoming a volunteer for Gateshead.
Find out about some of the great work our volunteers have undertaken in Gateshead
OurGateshead - register your hours
As part of Volunteers' Month we are gathering information on the type of volunteering, and how many hours, you do.
The focus for Volunteers Month 2019 will be:
Funding
This year there won't be a separate Volunteers Month Grant. However, funding will still be available through our Thrive Fund Community Grant (administered by the Community Foundation) for grants between £250 and £3,000. Funding can be used to develop groups including training, equipment, and any other support that they need, as well as volunteer activities and events. Find out more about the fund and application process.
Gateshead Awards
The Gateshead Awards are part of our Volunteer's Month celebrations. The Award ceremony was held on 12 June. Find out about this year's winners.
Details of volunteering events and activities across the borough will be given below together with contact information for the organisers.
Times and information correct at time of publishing, but please check with the contact for any changes or updates and event times if not given.
---
Week one - Community Centres
The Soundroom
Volunteer weekend, 1 and 2 June 10am to 5pm
Can you help at our volunteers' weekend? We are a community music charity and we'll be working all weekend to improve our building both inside and out. If you haven't been involved before you can meet our staff and volunteers, find out about volunteering opportunities and learn new skills. Come for an hour, a full day, or both days - any help is appreciated! Refreshments will be provided. We currently need help with interior decorating, exterior tidying up and gardening, general studio tidying and rearranging.
The Soundroom is on Cuthbert Street, between Bensham and Teams, 10 minutes' walk from Gateshead Interchange, postcode NE8 1PH.
For further information get in touch with Tom Robinson on 0191 477 1116 or email thesoundroomcharity@hotmail.com
West End Refugee Service
The service has opportunities for skillsmatch buddies to help and benefit Gateshead residents.
Skillsmatch is an online platform that matches the skills, experience and interests of asylum seekers and refugees with a broad range of volunteering opportunities in the Newcastle area.
Skillsmatch buddies provide one-to-one support to clients who are interested in accessing these volunteering opportunities. Volunteer buddies assist clients with writing their profiles for the skillsmatch website, help them to identify and positively articulate their skills, experience and interests, and support with the application process and initial visits to their chosen volunteer role.
Whitehills Community Centre
Whitehills Community Centre was built by the Warriors Community Project who are responsible for the growth and development of this newly formed community centre in Whitehills, Windy Nook and High Heworth.
The centre hosts a vibrant parent toddler group, ladies fellowship, men's group, ukulele group, lunching club, disco and street dance groups, slimming world, lady's fitness along with various exercise classes and clubs but also welcomes more involvement from residents and the local community.
There are a number of volunteer roles available including helping out in the kitchen and preparing food as well as clearing up and putting things away. Ideally volunteers would have level 2 Food Hygiene however if not there is some training which may be provided to help develop a volunteer.
This is a part time volunteer role and will take place on a Thursday each week from 10am to 2pm in the community centre.
The centre also provides a running group opportunity within Windy Nook Nature Park and hosts a park run around the scenic location on a regular basis. The group are looking for volunteer marshal's for the park runs. These volunteers will be required to guide runners along the track and to where the start and finish points are.
---
Week two - Environmental tasks
Planting up Whickham
Planting up Whickham are an Environmental Friends of Group which is made up of volunteers from around the area. The group volunteer in the area in environmental type tasks. They will be stripping plants out of the village beds on the 9 and 16 June. These events will also include planting 6,000 plants in the area. The sessions start from 10am on each day on the Church Green at Whickham.
Gibside, National Trust
This summer Gibside is growing its Events and Activities Volunteer Team to bring its fantastic events and activities programme to life and welcome thousands of visitors on evenings, weekend and in school holidays.
If you are looking to develop new skills and experiences or looking to share skills from previous education or employment or just eager to be outdoors for a change, please let us know.
Gateshead Countryside Rangers
The role of the practical volunteer is primarily to support the work of the countryside and farm staff so that a wide variety of nature reserves and the community farm can be maintained in Gateshead.
This volunteer role involves a wide variety of tasks, which can be adapted according to the time of year and the interest or availability of the volunteer. It will be explained why the work is being carried out and how it fits into the management plan for the site in question.
Friends of Watergate Park - litter picking
Wednesday 12 and Saturday 29 June, 1pm
The Friends of Watergate park voluntary group are hosting litter picking sessions throughout Volunteers Month at the Watergate Park site. They all start at 1pm, meeting at Watergate Café, post code, NE11 0BG. Free cups of tea or coffee afterward and all equipment provided.
---
Week three - Children and families
The Soundroom film club
Tuesday 11 June, 1 to 3pm - 'O Brother Where Art Thou?' (12A)
Tuesday 25 June, 1 to 3pm - 'Spider-man: Into the spider-verse' (PG)
The Soundroom Gateshead have started up a new accessible film club at the Soundroom aimed at adults with disabilities and learning difficulties and their carers.
Tickets are £3 and carers go free. Refreshments are available, including hot dogs at 50p each.
For more information please call 0191 477 1116 or email thesoundroomcharity@hotmail.com
The Soundroom is on Cuthbert Street, just off Redheugh Bridge, Postcode NE8 1PH. Free parking is available.
The Comfrey Project Annual Summer celebration event
Wednesday 19 June, 12 to 3pm - Windmill Hills Centre, Gateshead, NE8 1QB
The Comfrey Project invites you to celebrate Refugee Week and Volunteer's Month with them. Come and explore their garden and experience music, dancing and food from around the world.
For further information please phone 0191 447 7801 or email info@thecomfreyproject.org.uk
Friends of Felling Park and town centre
The Friends of Felling Park and Town Centre are hosting a "Community Picnic in the Park" with live music on Saturday 22 June from 10am to 4pm. Bring your picnic/blankets/seat and enjoy a free fun day in Felling Park.
Trinity Square Gateshead
Trinity Square are hosting a large event on Saturday 22 June from 11am to 3pm including entertainment, face painting, cake decorating, arts and crafts, raffle/tombola, and games. The event is an annual fundraising day in aid of Great Ormond Street Children's Hospital and Tiny Lives. This is the centre's biggest summer event and there will be lots to keep the little people and the bigger people entertained. For any information please email info@trinitysquaregateshead.co.uk
St Chad's Community Project
St Chad's Community Project, based in Bensham are a Community project, a charity working in partnership with families to build a better community.
At St Chad's we offer children's services such as children's drop-in, holiday care, after school clubs and family services such as sensory stars, brighter futures, and family support. Volunteers are at the heart of our work at St. Chad's Community Project. They generously give their time, skills and enthusiasm, enabling us to make a difference to thousands of local families. We provide support and training for all our volunteers to help them achieve their goals. There are many ways to volunteer with us, whatever your skills or experience. If you have a heart to help we'd love to hear from you.
St Chad's Community Project is based at 21 Liddell Terrace, Bensham, Gateshead NE8 1YN.
Please phone 0191 490 1032 or email familysupport@stchadscommunityproject.org for more information.
---
Week four - Older people
ASB (Anti-Social Behaviour) Volunteer support project
This is a council-led telephone support project to people who experience incidents of non-criminal ASB (Anti-Social Behaviour) within their current Gateshead Housing Company tenancy.
There is potential for this to include private landlord tenancies, however initially, it will include Gateshead Housing Company tenants.
We are looking for volunteers to provide a befriending and support role for victims of non-criminal Anti-Social Behaviour in Gateshead. You may have been a victim yourself and have the time and flexibility to help others who have faced similar situations, or you may simply want to help others in your community.
Set up to offer vulnerable people from incidents of non-criminal ASB, the service involves volunteers completing an online training course.
For registered volunteers to provide telephone support to the individual on a regular basis, a basic mobile telephone will be provided along with credit to be used. At the end of each case the volunteer will also be required to complete an evaluation. This will identify any signposted information they provide, or any additional information supplied. Volunteers need to be:
a good listener
friendly and patient
impartial and non-judgemental
flexible and reliable
Alzheimer's Society, Side by Side volunteer role
Side by Side volunteers improve the quality of life of people with dementia by helping them to continue to do the things they love. Volunteers visit people in their home for conversation or enable them to take part in recreational activities in their community such as visiting cafes or going for a walk. Their involvement aims to help people to feel less isolated and to focus on their strengths to remain active and confident. Volunteers need to be able to:
communicate well
be reliable
have enthusiasm
have a positive attitude
have the ability to support people with dementia and be over the age of 16 Years old
A Disclosure and Barring Service (DBS) check would be required for this volunteer role.
The volunteering can take place in people's homes or in within the community. It would depend on each individual person as to where their desired activity would be delivered.
The volunteer role would take place across an estimated at least 2 hours per week. There needs to be a commitment of a minimum of 6 months from a volunteer so that an individual is not matched to someone who is not going to be able to repeat visit.
Further information can be found at https://www.alzheimers.org.uk/get-involved/volunteering/ways-volunteer/volunteer-side-by-side
If you are already registered as a volunteer with Gateshead and would like to get involved please email volunteering@gateshead.gov.uk
Parkinson's, Gateshead café volunteer
Parkinson's cafés are a new way of supporting people affected by Parkinson's in a relaxed and informal setting. They offer regular access to friendship, shared experiences and information. They are run by volunteers and work on an informal drop-in basis.
As a café volunteer, you will help with the smooth running of a monthly café drop in and ensure that the group follows the aims and objectives of Parkinson's UK. As part of this you will:
be at the venue 10 minutes before the drop in begins
meet and greet people attending
keep the list of attendee's names up to date
chat to people attending
signpost to other Parkinson's UK activities and services
This role for Parkinson's Café will be based at the Green Pub, Leam Lane Gateshead. There is a time commitment of approximately 2 hours per month.
You will:
gain considerably from meeting new people and forging friendships and connections in your area
enable those affected by Parkinson's to access support in their area
do something useful and meaningful for your community
learn about the work of a major health charity and be an important part of the wide Parkinson's UK network.
To fulfil this role, you will:
have excellent communication skills and a friendly attitude
be motivated and reliable in order to ensure the coffee sessions run smoothly
be able to share and uphold the vision and values of Parkinson's UK
either have knowledge of Parkinson's, or a willingness to learn more about it
If you are already registered as a volunteer with Gateshead and would like to get involved please email volunteering@gateshead.gov.uk
Teams Medical Practice, Walking group
The Teams Medical Practice, based at Watson Street in the Teams, NE8 2PY, is a highly patient focused health centre. The group aim to deliver the best for their patients by combining the skills of the practice team with other health and social care workers in the community. One of the activities the group deliver is a walking group every Thursday for an hour from 10:00am at the front of the Practice. Across June the walking group will be active on:
Thursday 6, 10am to meet at the front of the practice
Thursday 13, 10am to meet at the front of the practice
Thursday 20, 10am to meet at the front of the practice
Thursday 29, 10am to meet at the front of the practice
For more information please visit the group's website at www.teamsmedicalpractice.nhs.uk
Gateshead Housing Company, Sheltered Accommodation Scheme, general volunteers
Within Gateshead Housing Company there are a total of 38 different sheltered accommodation schemes. They offer a source of support through a Scheme Officer, on site, while residents still live independently and are as active as possible.
Each scheme has different activities and projects based on site, depending upon the needs of the individual mixes of residents. However, there are some generalised volunteer roles which exist to add value to the support that Housing Company staff deliver. These volunteer roles include:
general socialising, chatting, listening, completing jigsaws, bingo caller, reading, arts or anything else that can get socialise with residents
helping with general basic environmental type tasks within communal spaces, such as gardening tasks (basic) or community allotment type activities
support such as writing letters to residents - for those volunteers who are not able to attend the schemes in person there is activities such as writing letters. Some residents do not have any family or friends visiting them, and still enjoy to receive letters and updates through the old fashioned post. This worked well with an individual previously and can be repeated.
The available volunteer tasks for sheltered accommodation schemes would vary depending upon the location of a scheme that individual volunteer is interested in.
If you are interested in volunteering with a sheltered accommodation scheme please email your preferred Neighbourhood area to volunteering@gateshead.gov.uk you will then be supplied with the specific tasks available for the area and the listed schemes.
---
Find out about other volunteering opportunities in Gateshead
We have many volunteering opportunities available across the borough.
For general information and advice on volunteering you can contact us by email on volunteering@gateshead.gov.uk or phone Kate Marshall on 0191 433 3255.
How to volunteer
The first step in the volunteer process is to complete the expression of interest, regardless of the type of volunteering opportunity you are interested in.