Gateshead Volunteers' Month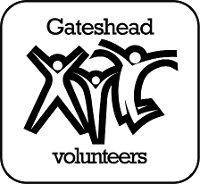 Nationally, Volunteer's Week takes place in the first week of June. Gateshead extended this to Volunteers Month in 2013 which covers activities throughout all of June. Throughout the month increased publicity not only highlights available volunteer roles but also identifies the type of activities that people already deliver in Gateshead.
One of the key areas this year has been Corporate Social Responsibility (CSR), highlighting how private sector organisations send their employees over to volunteer in Gateshead within different projects through Helping Out Days. These organisations include the likes of Newcastle Building Society, Sage, Arup, and DWP amongst others. The Helping Out Days involve many activities such as gardening, painting and even website development that can help a voluntary group. The activities are delivered within the space of one day.
In 2019 the funding available in Volunteers Month has been incorporated into the main Thrive Fund. Grants from between £250 - £3,000 are available to support groups in different areas including volunteering. Projects can be delivered at any time and unlike previous years, are not confined to June.
For the first time The Gateshead Awards were held in June this year on the evening of Wednesday 12 June. The Gateshead Awards highlight the huge investment into the community from volunteers and voluntary groups. There are several categories including volunteer and voluntary organisation of the year. A winner in each category was announced on the night.
The Volunteer Hours Totaliser returned in 2019 to provide a snap shot of the estimated volunteer hours in Gateshead. This provides an idea of the amount of activity and investment into the borough. What is captured is just the tip of the iceberg, however it provides a figure to compare previous Volunteers Month totals. Groups and individuals are encouraged to record their volunteer hours throughout June using the Totaliser. This year, so far, an estimate of 128,199 volunteer hours have been recorded with a calculation of £1,666,587 economic value. This compares to 113,151 hours with an economic value of £1,470,963 calculated in 2018.
If you have any ideas about themes and celebrations for Volunteers Month 2020, please email volunteering@gateshead.gov.uk.
For general information and advice on volunteering you can contact us by email on volunteering@gateshead.gov.uk or phone Kate Marshall on 0191 433 3255.