Close
Recipe card number six - Creamy courgette and pea pasta (vegetarian)
Recipe card number six - Creamy courgette and pea pasta (vegetarian)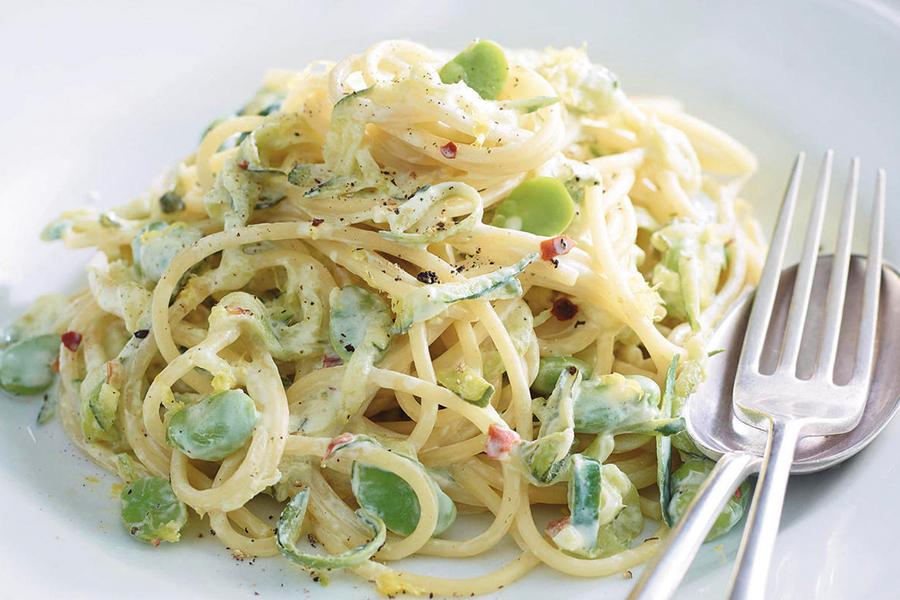 Ingredients
one small white or red onion - finely diced
50ml oil
one teaspoon garlic puree
two courgettes finely diced or sliced
200g frozen peas
300ml crème fraiche
400g cooked whole-wheat penne pasta, approx 200g dry pasta
one teaspoon mixed herbs
salt and pepper to season
parmesan or cheddar cheese to sprinkle
Method
For the pasta bring a large pot of water to boil.
Prepare the vegetables and ingredients.
Meanwhile add pasta to simmering water to cook.
Heat the oil in a large pan and gently fry the diced onions and courgettes for a few minutes, to soften. Add garlic puree and stir in the peas and cook for few minutes.
Next stir the crème fraiche and season with salt and pepper. Heat gently for a further four to five minutes.
Drain pasta, add to the mixture and stir well.
Transfer to a serving bowl or plate, sprinkle with grated cheese and then serve immediately.
Serving
Serve with garlic bread and your choice of salad.
Feel free to use other types of pasta and vegetables.
Skill to learn
Learn to cook quick and easy pasta dishes.
Chef's tips
This pasta tastes delicious reheated the next day.
You can freeze the left over parmesan and use when required directly from the freezer.
Recipe card number six to download and keep. [483.95KB]