Recipe card number two - French pizza bread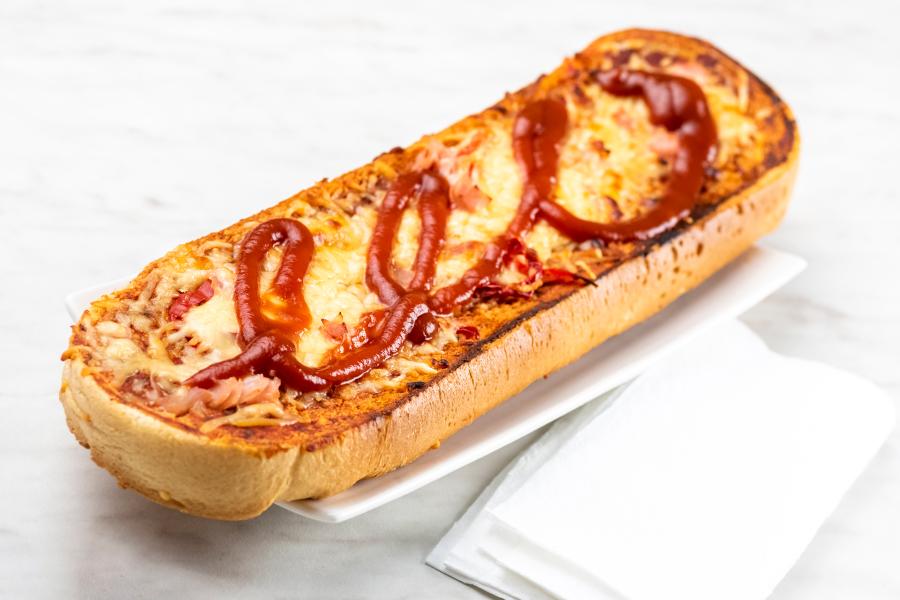 This is a super versatile and fun recipe to make. You can put anything you want on top. Simply apply tomato sauce onto the bread, your choice of delicious and healthy veggies, sprinkle with cheese and herbs and it's ready for the oven.
Ingredients
two part baked baguettes
pizza topping sauce
mozzarella cheese
one red and one yellow pepper
one tin of sweetcorn
150g mushrooms
one red onion, diced
two teaspoons of mixed herbs
Method
Thinly slice or dice the peppers, mushrooms and onions.
Drain the sweetcorn.
Grate the cheese if necessary.
Preheat the oven to 180°C / 160°C fan or gas mark four.
Remove the baguettes from the packaging and slice in half.
Arrange, flat side up on a baking tray lined with greaseproof or baking paper.
Spread the tomato sauce and scatter the vegetables.
Finally, top with mozzarella cheese and sprinkle with dried herbs.
Bake for 12-15 minutes until cheese has melted and baguettes are crispy and cooked thoroughly.
Serving
Serve with a little salad, coleslaw or even baked beans.
Skills to learn
Using bread as a base for delicious pizza - feel free to experiment. Use naan breads, English muffins or other favourite breads.
Use your imagination to experiment with different combinations of toppings.
Chef's tip
You can freeze assembled baguettes ready for cooking the next time. Don't forget to label them up with the date of freezing - do not exceed two months. Wrap them in cling film and freeze. Reheat in a preheated oven from frozen for about 20 minutes at medium heat at 180°C / 160°C fan / gas mark four.
Recipe card number two to download and keep. [1.06MB]