Sports activities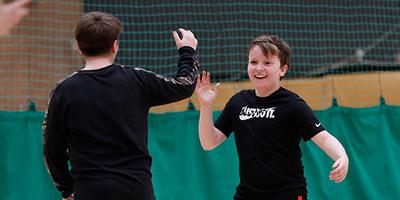 Taking place at six different outdoor locations across Gateshead.
Professional coaches will be providing free informal sports for children under 11 years. Younger children aged seven and under will need parental supervision.
Come along between Monday 2 August to Thursday 26 August 11am to 2.30pm, (Monday to Thursday each week).
Children will receive healthy snacks and a drink for taking part.
We recommend you book in advance to guarantee a place.
Drop in will only be available if there are spaces and we want to avoid any disappointment.
Activities will be outside without facilities. Please wear clothing and footwear suitable to take part in informal sport. Younger children will need parental supervision.
Activities may be cancelled at short notice or delayed depending on the weather on the day.
Elizabethville
Grassed area next to Lansbury Drive (map)

Highfield
Activities at Highfield are only taking place on Mondays, Tuesdays and Thursdays.
Grassed area next to Whinfield Terrace (map)

Kibblesworth
Kibblesworth Park (map)

Stargate
Grassed area next to Stargate Hall (map)

Eighton Banks
The Mount Community Association (map)

Blackhill Park Springwell Estate
Blackhill Park Springwell Estate NE9 7DN (map)