Close
Reading Well for children
Reading Well for children
Reading Well for children, launched 3 February 2020
Join the library
Find or renew books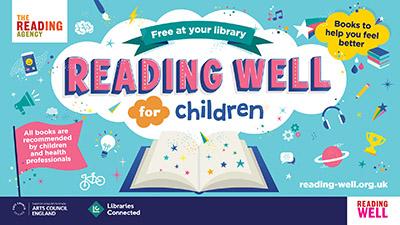 Launched 3rd February 2020
Reading can help children understand their feelings and worries and cope with tough times. This collection of books has been chosen by children, carers, health experts and librarians. The books provide children and their families and carers with information and support for coping with feelings and worries, daily life and getting through a tough time.
The booklist is targeted at children in Key Stage 2 (aged 7-11) and includes a wide range of reading levels to support less confident readers, and to encourage children to read together with their brothers and sisters, friends, parents and carers. Reading together is a really useful way to help open up conversations with your child. You can find the books in your library.
Reading Well for children provides quality assured information, advice and stories to support children's mental health and wellbeing. It covers general information and advice about understanding and managing feelings, school and online pressures, bereavement, parental mental health needs, and living well with specific diagnosed conditions and physical disabilities.
Reading Well for children book list
Gateshead Libraries
Central Library, Prince Consort Road, Gateshead NE8 4LN
0191 433 8410
Give us your opinions: Your views matter